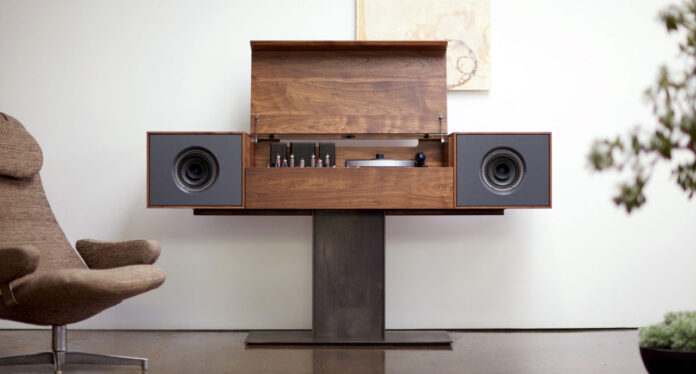 Turntables are still a very popular option for audiophiles, but you cannot use one without a proper record player stand. If you read through this article, I am going to tell you exactly why you need one and help you decide which one you should get.
Access to music in the 21st-century is easier than ever. All you need to do is just open up YouTube or some other online streaming platforms that distribute songs from millions of different artists. The best example of such a platform has to be Spotify. This platform can both be used on phones, tablets, and computers. But, there is one disadvantage to streaming your music online. The quality of the audio on the tracks that are uploaded to Spotify or YouTube is much lower when compared to classic CDs, original files, or vinyl.
However, there is also a big gap in quality between CD and vinyl. At least, that is what a lot of audiophiles believe. There is no straight fact to explain whether this is true or not. It is entirely subjective. But, if you are in audiophile and if you do enjoy vinyl over digital audio, you probably need or already have a turntable. You also need a place where you can store that turntable for both aesthetics and get the highest level of audio.
A record player stand is a place where you can store all of your records, stack your audio devices, and give your living room or bedroom a little bit of character. But, finding the right record player stand is not exactly easy because most of them are quite ordinary and boring. This is why I wanted to make an article that shows off the record player stands that are a little bit more unique and to help you give you an idea of what you really need.
Novogratz Concord Turntable Stand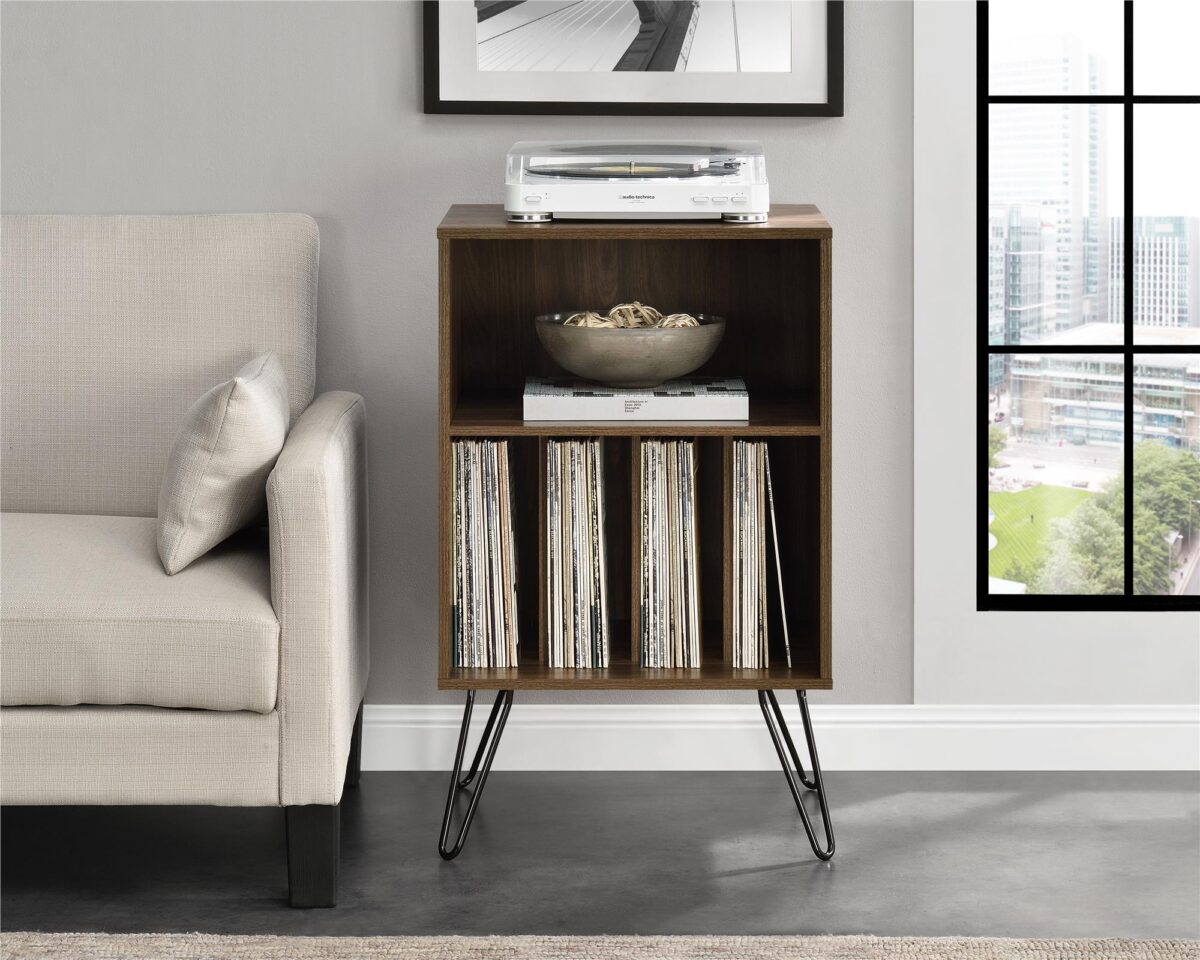 A turntable is a traditional way of listening to music. It is one of the first methods to both record and reproduces sound. This idea was first introduced in the 1870s and that idea has been updated and technologically improved in the oncoming years. In the past, the entire sound was completely acoustic and mechanical, but as time went on, the acoustic sound was boosted digitally. This led to much crisper and clearer audio while maintaining that authentic and traditional style.
However, just because this is an older technology and a traditional device does not necessarily mean that you have to maintain that traditional style around it. In fact, there are many different record players that tend to have a much more modern style. This is why I believe that combining this stand by Novogratz is the perfect option.
The beautiful white color can be combined with all kinds of devices, especially something that is made out of darker wood or with a matte black colored material.
In this inexpensive product, you can put up your device in the highest rack, and then you have four different slots that allow you to store your favorite vinyl records. Since the slots at the bottom are split, you can split your records by categories.
This product has over 1500 ratings on Amazon and more than 70% of them have rated it five stars. Most of these users claim that it is very sturdy, it is easy to assemble, and that it comes at a great price.
If you are not a fan of the white, you also have the option of going with walnut color or brown oak mixed with gray.
Draper Media Console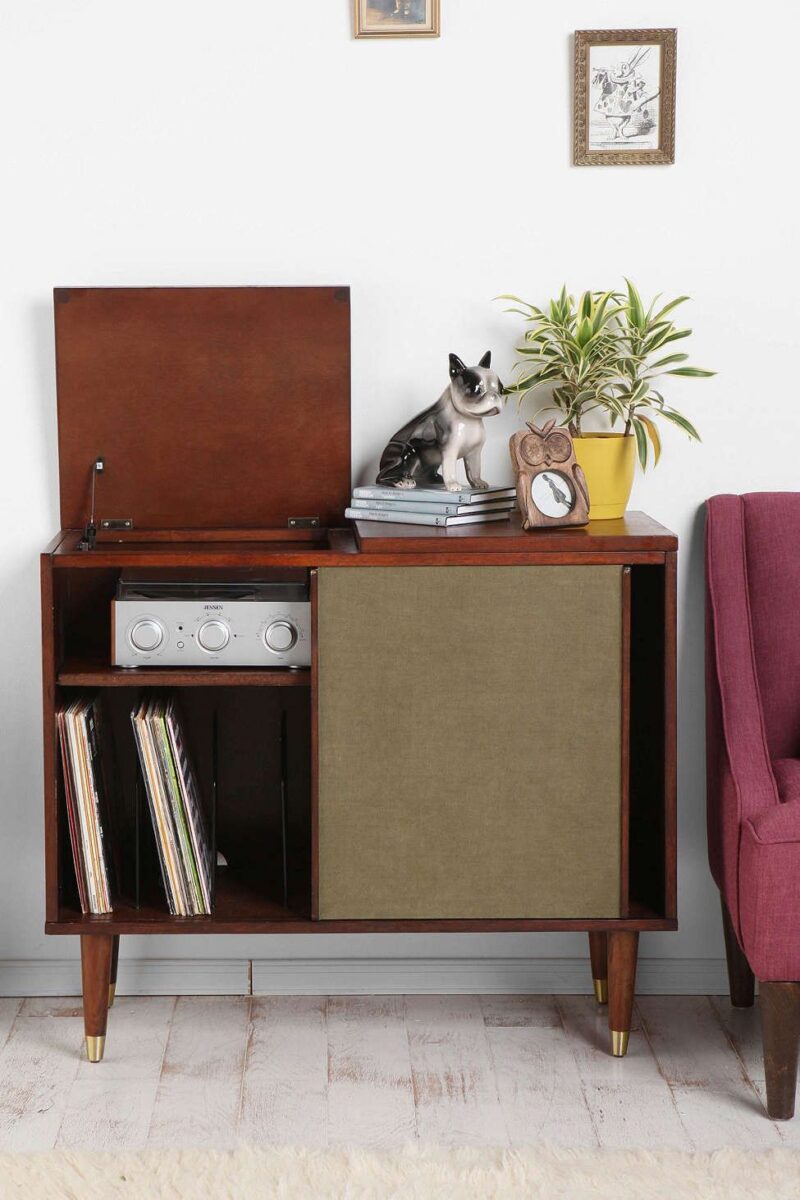 For those that are looking for the old school style and a classic look, this is the perfect option. Keep in mind, this one will be a little bit more expensive because it is $329, but it is made out of solid wood. It is also much larger than the product by Novogratz, it is sturdier considering it is made out of solid wood and it allows you to store a lot more records which can be split with the metal racks in the lower-left cubby.
If you are willing to increase your budget for this kind of a stand and if you want to know more about this product, you can read full details here.
Crosley ST66-PA Manchester Entertainment Center Stand, Paprika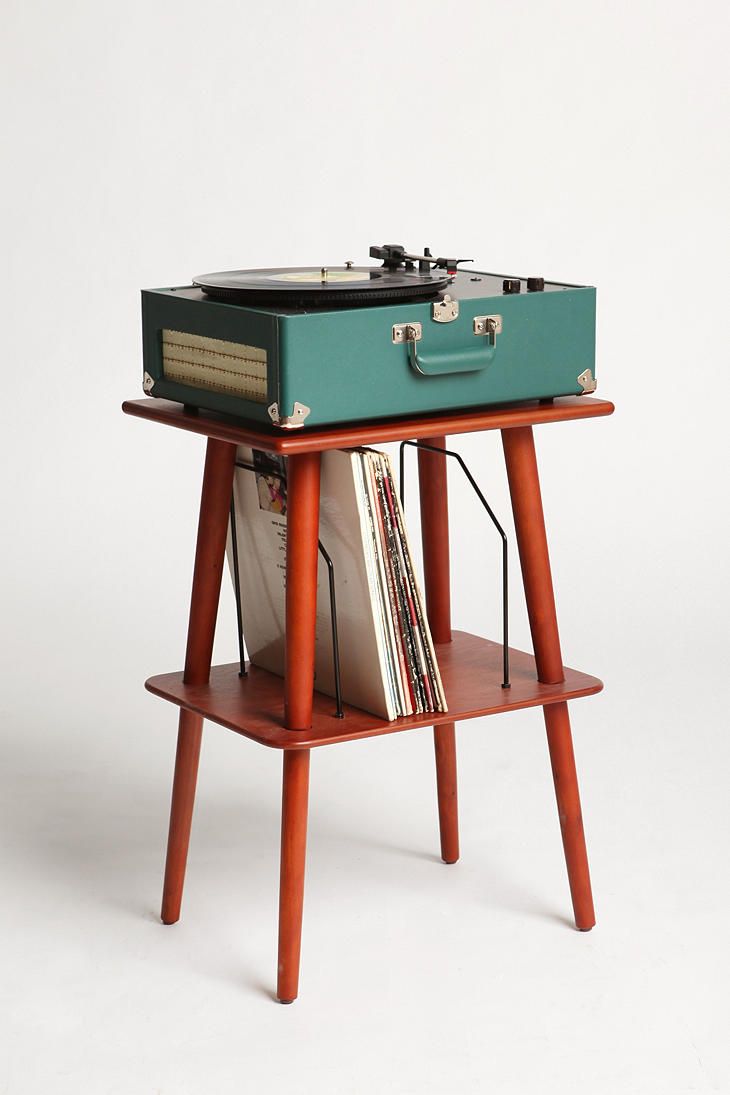 It is simple, it is inexpensive and made out of high-quality hardwood. What is not to like? Of course, it is a much smaller piece of furniture than the Draper media console and it may also be smaller than the Novogratz Concord. But, considering the price which is just $65, cut from $89.99, this may be a great option for anyone that does not want their turntable to take up too much space.
The bottom rack offers room for at least 20 or 30 records and the assembly of this product will not take you any more than 15 minutes. You buy it for a small price, you set it up and you get a beautiful stand in a very short time span.
Ryan Rove Hamlin Glass Component Stand in Black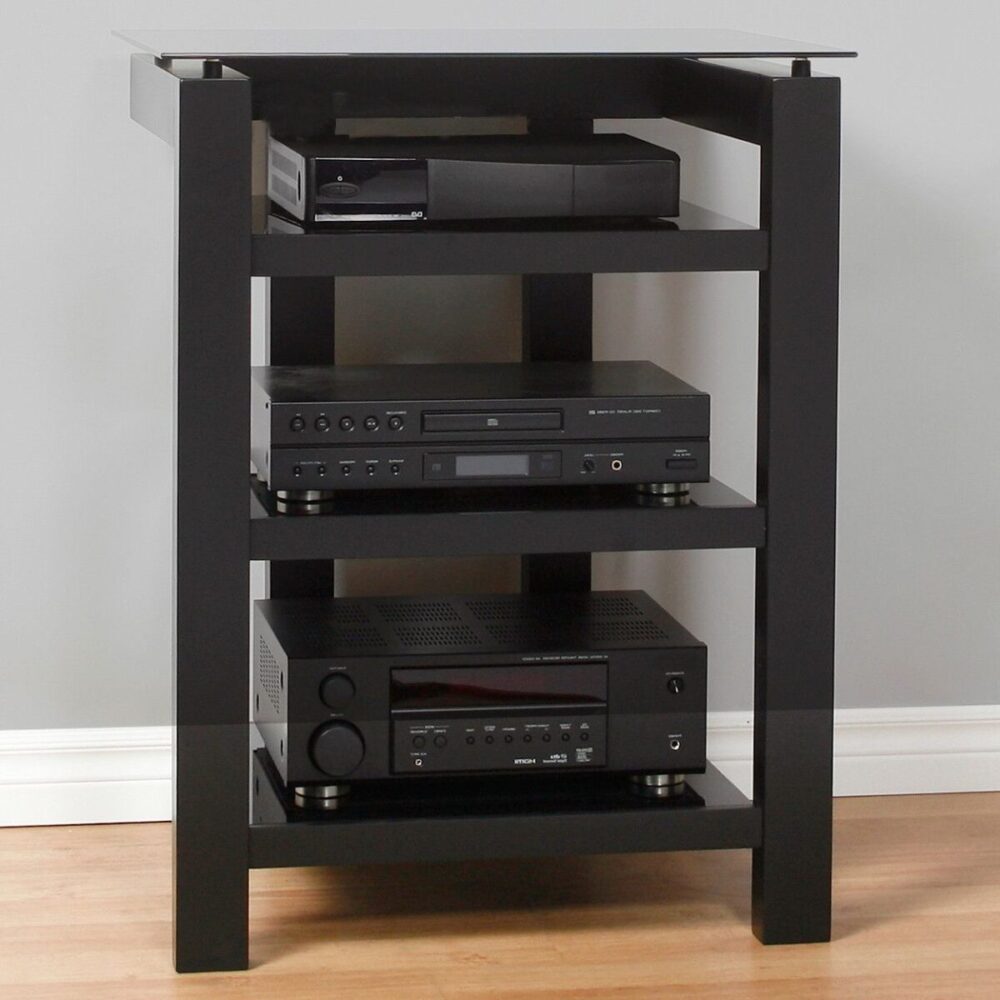 This one is not my personal favorite, but I decided to put it on this list because a lot of people seem to like it. It has a modern look because all of the shelves are made out of tempered glass. I do not think the glass will break that easily, but I would suggest you be a lot more careful when placing your turntable or even your records.
Other than that, it looks great, it is big enough considering the price and it will look good in a modern living room.
Ryan Rove claims that each shelf can hold up to 75 pounds of weight which is quite impressive considering that it is only class. But, I would not go about that limit because it might be risky.
There are hundreds of other ideas you could find online, but I believe these four record player stands I mentioned can give you the inspiration need to make the right purchase. Whether you need something modern or traditional, you can get it out of these products.