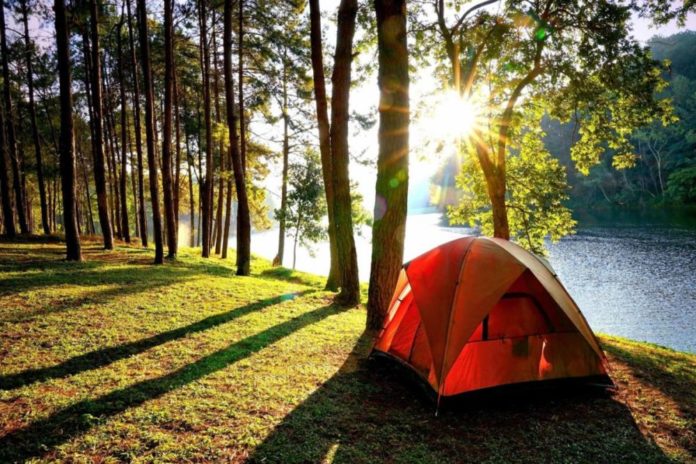 One of the biggest appeals of camping is the opportunity to "unplug" and leave all modern gadgets behind. No phone calls, no emails, just a nice, relaxing vacation surrounded by nature. Until the nature on the form of mosquitos starts biting, that is.
Yes, staying away from office calls is a great way to unwind, but that doesn't mean you have to forego all technological advancements of the last few decades. There are plenty of tech gadgets that are designed for camping and making your stay in the great outdoors more enjoyable. Here are our picks for the essential ones.
Most of them can be found online on any of the websites that sell camping equipment.
1. Nemo Helio Portable Pressure Shower
Let's start with the essentials. Hygiene can be problematic if you are camping away from campsites with all sorts of amenities, showering blocks included. Unless you want to shower by pouring water over your head from a bottle, you need a solution to keep clean.
Nemo Helio Portable Pressure Shower is a great way of accomplishing that. It comes with a foot pump connected to a sprout you can either hold in your hand or fix to a tree. Its design allows it to even heat the water with sunlight, so you can use it even during the night.
2. Mr. Heater Propane Radiant Heater

Nights can get chilly even during the summer, depending on where you are camping. Mr. Heater Propane Radiant Heater provides you with a convenient heat source to keep the cold away. It is powered by propane, but still completely safe for indoor use.
This small unit will provide 9,000 BTU of heat and can heat the space of up to 225 square feet, more than enough for a tent or an RV. It comes with an automatic shutoff feature. At full power, it can run up to 3 hours on a single propane bottle.
3. Anvey First Aid Kit
A quality first aid kit is a must on a camping trip. The VSSL First Aid Kit has enough supplies to treat minor injuries in the wilderness. It also has several bonus items, like a compass and a handy torch. All that is packed in a convenient waterproof shell that is impact-resistant.
4. Thermacell Armored Portable Mosquito Repeller
Mosquitos are the bane of every camper in the world and every means of keeping them away is a welcome addition to your camping gear. Thermacell Armored Portable Mosquito Repeller is a handy gadget that will create a 15 feet no-fly zone for the annoying bloodsuckers.
That is an area big enough you won't be able to even hear, let alone see or feel them. There is no nasty smell, you don't have to spray yourself from head to toes, and you can carry it with you with a handy belt clip. The battery is good for 12 hours of mosquito-free experience. The gadget features a robust design to protect it from an accidental fall.
5. Biolite Campstove 2
Cooking food on camping can be a great experience, but you need to have the proper equipment. Doing it over open fire seems like fun, but you have to deal with smoke getting into your eyes and nose. That is why you need a proper stove.
Biolite Campstove 2 is an excellent choice for a camping stove that can be fueled by any biomass but without the accompanying smoke. It burns it onto a concentrated flame that provides enough heat for cooking.
The added bonus is an incorporated battery that turns heat into electricity you can use to charge your devices and it comes with a USB lamp for cooking during the night. It is much safer than a campfire, as it is elevated and there is less risk of starting a fire.
6. Goal Zero Nomad 7 Plus Solar Panel Charger
Unfortunately, the great outdoors doesn't come with handy outlets for charging your devices. Goal Zero Nomad 7 Plus Solar Panel Charger remedies that flaw and provides you with a way to keep your phones working. All you need is a sunny day and you are good to go. The model comes in several sizes, depending on your needs.
7. Auslese USB Rechargeable Electric Lighter

Starting a fire on camping can be a tricky proposition if all you have are matches. Auslese USB Rechargeable Electric Lighter provides you with a handy way of creating a constant stream of flameless windproof fire.
Once mounted on it, you can use it like any other blowtorch. There are other ways of creating a fire in a camp, but once you try this gadget, you will never think of them again.
8. Sea To Summit Jet Stream Pump Sack

Air mattresses are a great way of getting a nice, comfortable sleep area in a tent. However, inflating them can be a chore.
Sea To Summit Jet Stream Pump Sack makes that part of the camp set up a breeze, no pun intended. It functions like an accordion and will save you from having to subject your lungs to the stress of blowing massive amounts of air to enjoy a good-night sleep. When you are done, just collapse it and store it away.
9. Lifestraw Personal Water Filter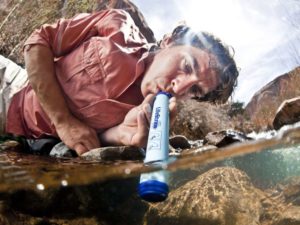 Finding a source of potable water on camping can be an issue. If you can't find one, you will have to carry all the water you need with you. In case of an emergency, that can be a problem, unless you have Lifestraw Personal Water Filter.
It is basically a straw you can use to drink from any water source you find. It will eliminate 99.999% of every contaminant, making it instantly potable. It can truly be a lifesaver in some situations.
10. Luminaid Packlite Lantern

People often forget to pack sufficient lighting for a camping trip, resulting in an unpleasant stumbling around in the pitch dark when you need to leave the tent during the night. Luminaid Packlite Lantern is a solar-powered light solution that provides you with 300 lumens of soft light for just those occasions.
IT also packs a 4,000 mAh battery that you can use to charge your other devices. When not in use, it can be collapsed, so it won't take up much space. The whole thing weighs just 10 ounces and it is completely waterproof.