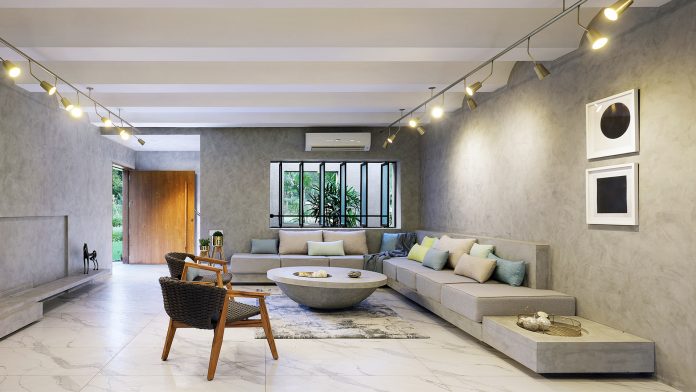 Modern people with a practical approach now often choose a high-tech style in the room decoration. However, many people ask how to make a room cozy when you use as main materials metal and glass? And the answer is for the dynamic life-style in the urban ambiance when you spend most of the time in the work this kind of style is the most suitable.
If you will follow some simple rules that help to create a harmonious atmosphere in this style it will become a cozy place for you and your guests.
High-tech style: characteristic features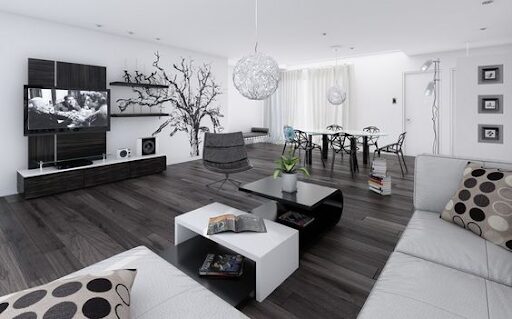 Of course, this kind of style requires space and bright, large rooms are the best choice, but small modest places also can be appropriate if you will visually expand it with some high-tech style features. The high-tech living room is never an abundance of cozy little details and decor elements like floral motifs, various frills, or ruffles. High tech is considered as a futuristic view on the things with its bizarre elements and usage of the "cosmic" elements.
To achieve the most striking effect in this style you can use mirror surfaces and smooth and shiny surfaces with the "cold" appearance. These kinds of surfaces help to visually expand the space and with their help, even a small room will get this airy feel.
For the floor best materials are different types of tiles like porcelain, laminate flooring, and bulk floors. If you want a room to be cozier and to softens so sharp shapes you can put a plain carpet in the discreet color.
When it comes to furniture better to choose some clean-lined and minimalistic models. They shouldn't have many decor elements and better for them to have a sharp futuristic image. To find online some appropriate furniture you can look here.
Classic traditional floral and ornamental patterns aren't appropriate for high-tech. Halogen lamps can be the best decor element that can be used in the zoning of the room. These kinds of lamps can replace outdated chandeliers with the colored glass.
Lighting should focus on certain areas and should accentuate the interior decor elements. If you are a fan of the chandelier then you can hang a minimalistic one on pendants.
This style requires special attention to the room's technical equipment. So only a contemporary flat TV can be combined with a high-tech style and if you have a possibility to purchase a home theater it will be even better. And you should know that work with the laptop or computer will be an essential part of this style.
High-tech color palette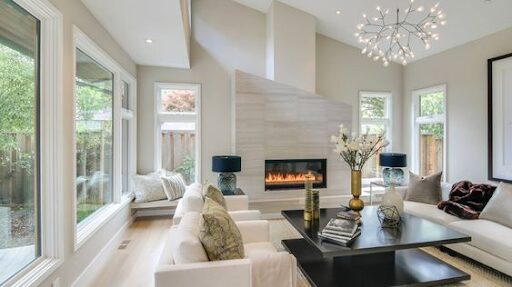 The best choice for creating high-tech ambiance will be monochrome colors. The best decision will be to use one color and its shades. If you want to freshen this color scheme you can add a bright accent, but be attentive and try to not overdo it. The main colors for high-tech are light and saturated grey colors, silver and different metallic hues, beige, and light brown colors. What comes to the ceiling you should keep it in more natural colors, a white one is the best choice. Try not to make it too bright or too dark.
High-tech materials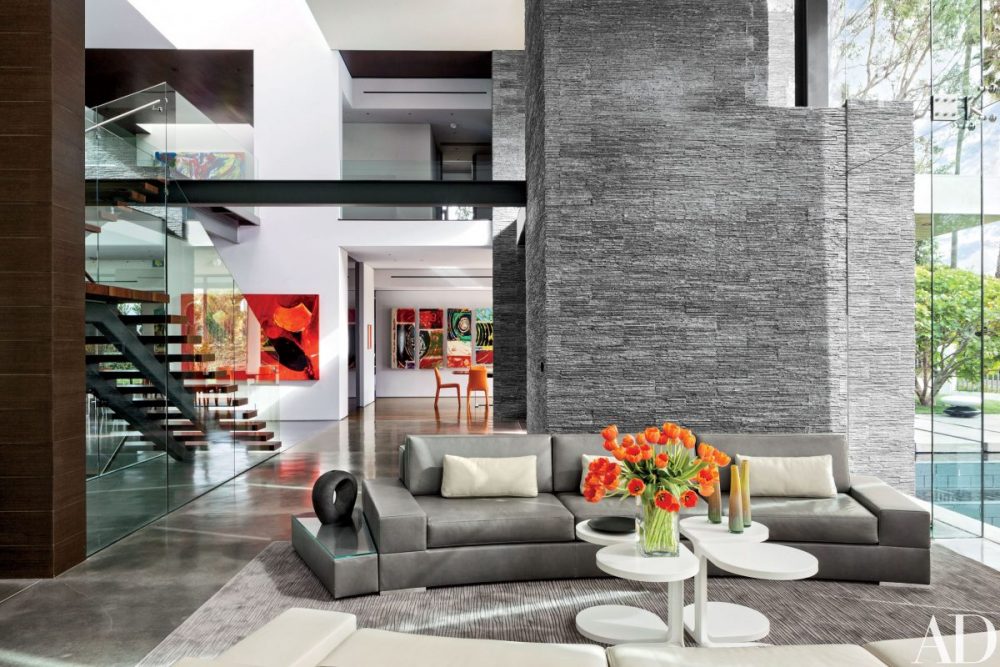 Choose simple materials like paints and varnishes that can become the perfect design for walls. Brick or stone imitation, liquid wallpapers, or others will be a perfect part of the style. Columns and pipes also can serve as decor elements for walls and ceiling.
A high-tech living room can be freshened with the various partitions and also they can serve in a practical way- they can help to zone room's areas. Stained glass or plastic interior partitions, sliding or folding doors can become a good variant. Spacious rooms are better for this design tip because if the room is cramped partitions can be an excessive decision. This kind of layout for the room should be designed to visually enlarge the room.
Also, you can unite the kitchen area with the living room and separate functional areas with transparent partitions.
For the floor, you should choose smooth and shiny surfaces, a parquet board, shimmering laminate, plain linoleum, and different tiles.
Furniture selecting for a high-tech living room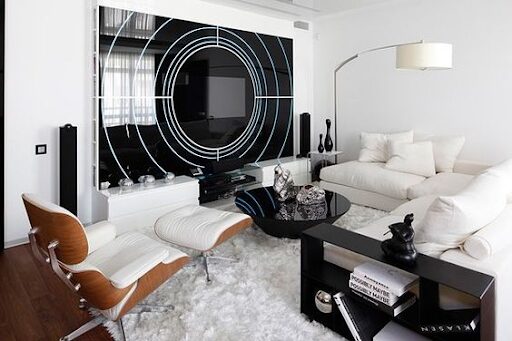 For this kind of living room, you should choose more minimalistic pieces with a clean-lined design. Colors for this furniture upholstery should be neutral. Glass shelves with the metallic parts and coffee tables with the chrome elements can be sophisticated elements of the interior.
It is important to keep in mind that high-tech is characterized by multifunctionality and minimalism, so furniture should follow these aspects. If you are in need of the cabinet you should think about merging it with the wall. Built-in cabinet furniture are an essential part of the high-tech interior. A guest who enters in the room shouldn't have any idea about the existence of a secret closet. So considering the fact that comfortability and functionality are high-tech main features think about transformer furniture and modular elements can be a problem solution.
The ambiance should be simple, minimalistic, and shouldn't have any unnecessary elements. Straight and clear lines, strict geometric shapes, and minimalistic images are the main priorities of the high-tech. To add dynamic in the interior you can use oblique lines. Furniture's size should be optimized to not occupy a lot of the space, it should functionally fulfill its purpose- for you to feel comfortable.
The upholstery of the furniture should come in eco-leather or should be synthetic and mostly in a plain design.
High-tech decoration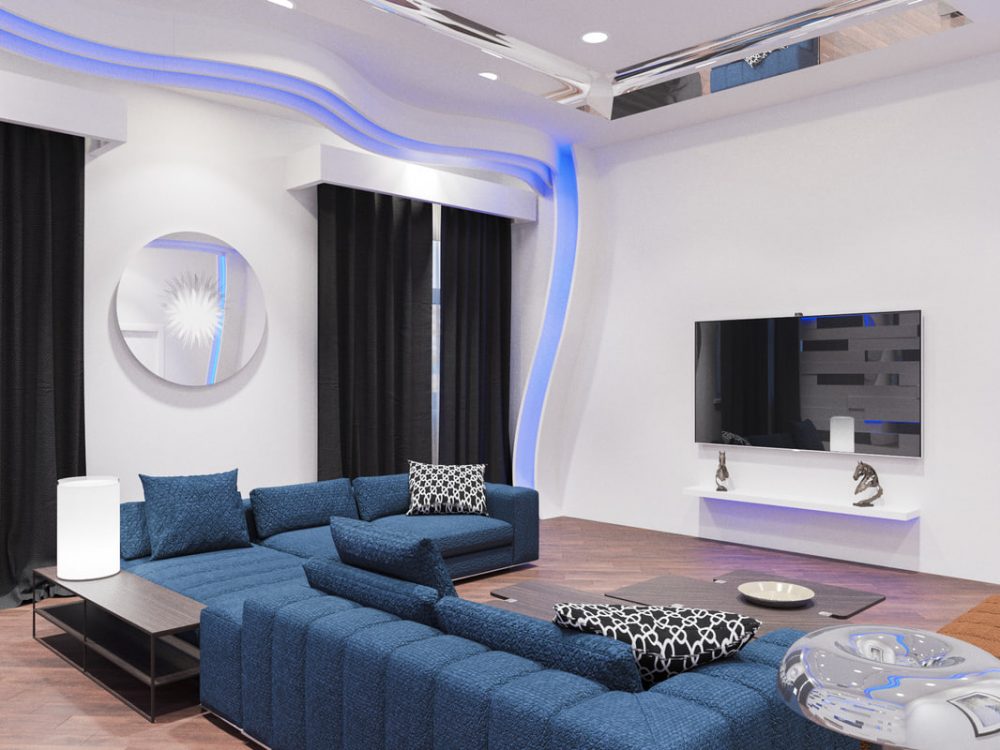 With such a minimalistic approach, there is not a wide assortment and choice will be in extremely simple variants. Forget about the oil paintings, embroidered wraps, small statues and figurines, vases with the ornaments and floral patterns, motley rugs, and cabinets with the carvings and other decor elements that should add warmth and coziness.
If the interior seems too dull, you can diversify it with the black and white photographs with the contemporary flair or maybe images in the surrealist style. Panorama of a metropolis or portraits will be a fine part of the high-tech interior. Historical themes, landscapes, and still life are not the best decisions. All photos or pictures should be placed or without the frame or in a metal one, carvings and wood should be excluded.
For some inspiration, you can watch on this site some fascinating high-tech decor elements.