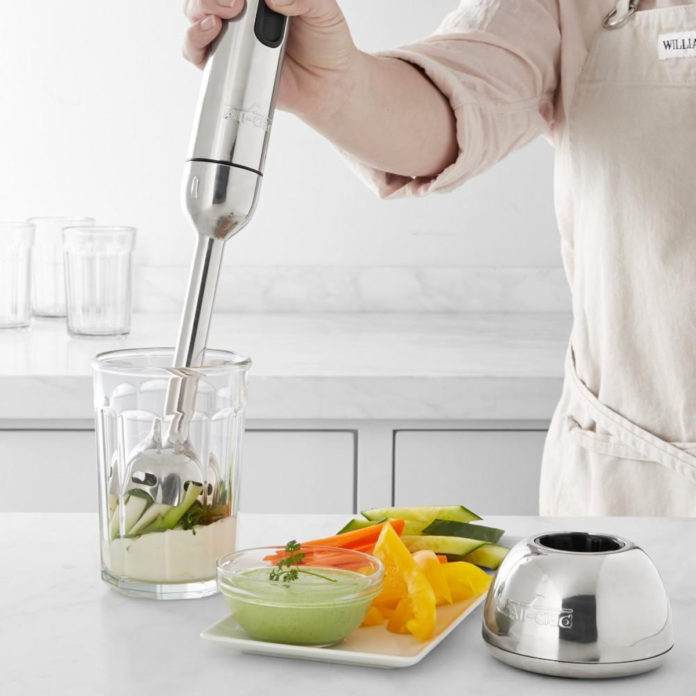 Cordless immersion blenders vary from those with high-end features and expensive to those that have basic features and affordable. There aren't many types of cordless immersion blenders one can choose from but out of the few available, you can find the best for your home using the following expert reviews. The reviews are from highly rated and expensive to the lowly priced ones.
KitchenAid cordless blender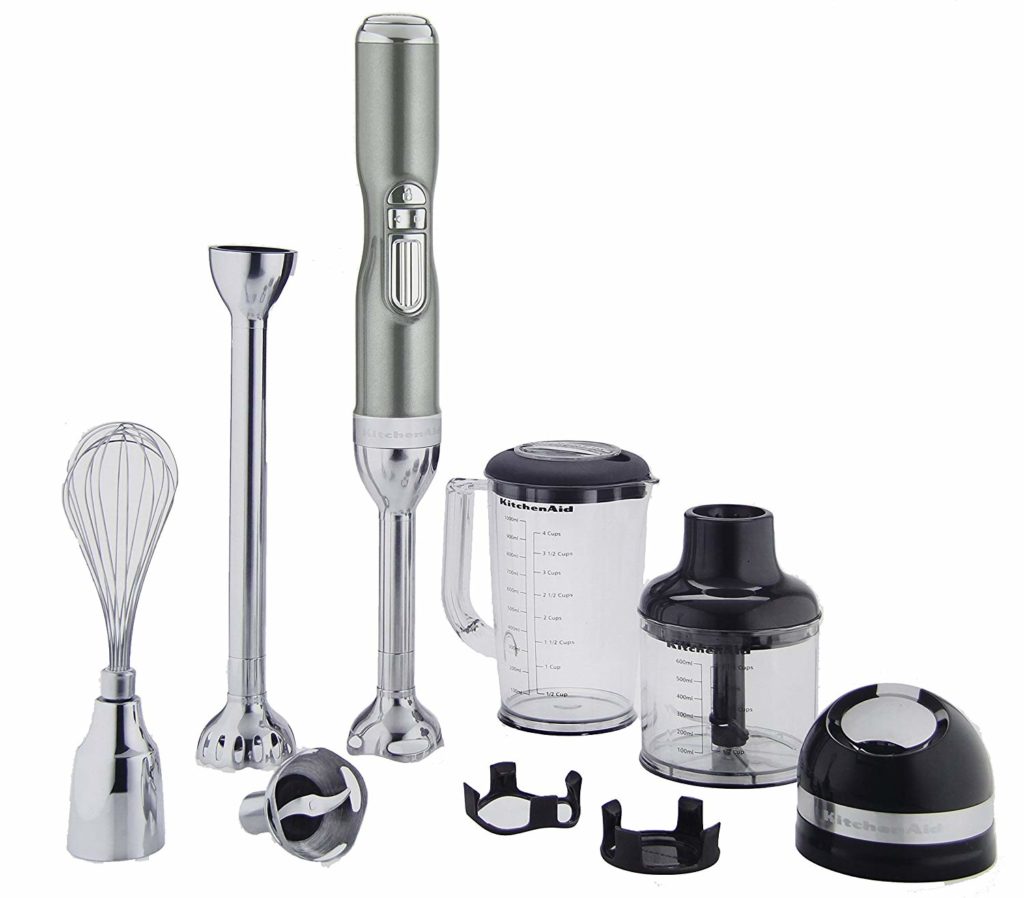 According to bestreviews.guide, the KitchenAid is our number one on the list of cordless immersion blender as it is good in every way compared to the rest. Although the most expensive on our list, this blender is in between the best pro-grade and best home cook hand blender set. It has multitasking features and offers quiet and efficient performance. It is similar with the corded 5-speed version by the same manufacturer.
Key features
It has different names in the US and UK but regardless of the different naming in different countries, it offers the same performance with the same features as well. It is known as the Pro-Line series in the US while in the UK it is known as the Artisan Cordless. It comes in separate colours of Empire red (Artisan) and candy apple red, onyx black and pearl silver (Pro line).
The blender measures H36 x W18.2 x D14.2cm (19 x 2.5 x 2.25 inches) and weighs about 1.3kg (5lbs). It has 5 speeds (610 – 11000rpm) and takes approximately 2 hours to fully charge. It has 12V rechargeable Li-ion battery and a battery charger.
KitchenAid has 3 interchangeable stainless steel bell blades.
The S-blade is the main blade that is used to crush, blend; puree and you can use it for smoothies, soups, sauces, milkshakes, baby food, icing cake and much more. The star blade is used to shred or mince already cooked meat. It is good for making burgers and meatballs. The frothing/beating blade is used for processing light things like frothing milk for Latte and Cappuccinos, making batter for cakes, pancakes and much more.
Pros
• It's a high-end, professional grade cordless blender.
• It is powered by Li-ion battery hence no hustle of using a cord.
• It is easy to clean blender and has dishwasher safe parts.
• Has a cool design and amazing colours of silver or red for the Artisan.
• Features 5 speed settings to select from.
• It is a multi-tasker device and comes with all accessories required to handle all tasks
• It automatically goes off after 60 seconds of inactivity.
• Has a handy hook at its back for easy storage.
Cons
• It is quite expensive if you have a limited budget.
• Colours are described differently on different sites and become tricky to choose if you are going with colours.
Waring Bolt Cordless blender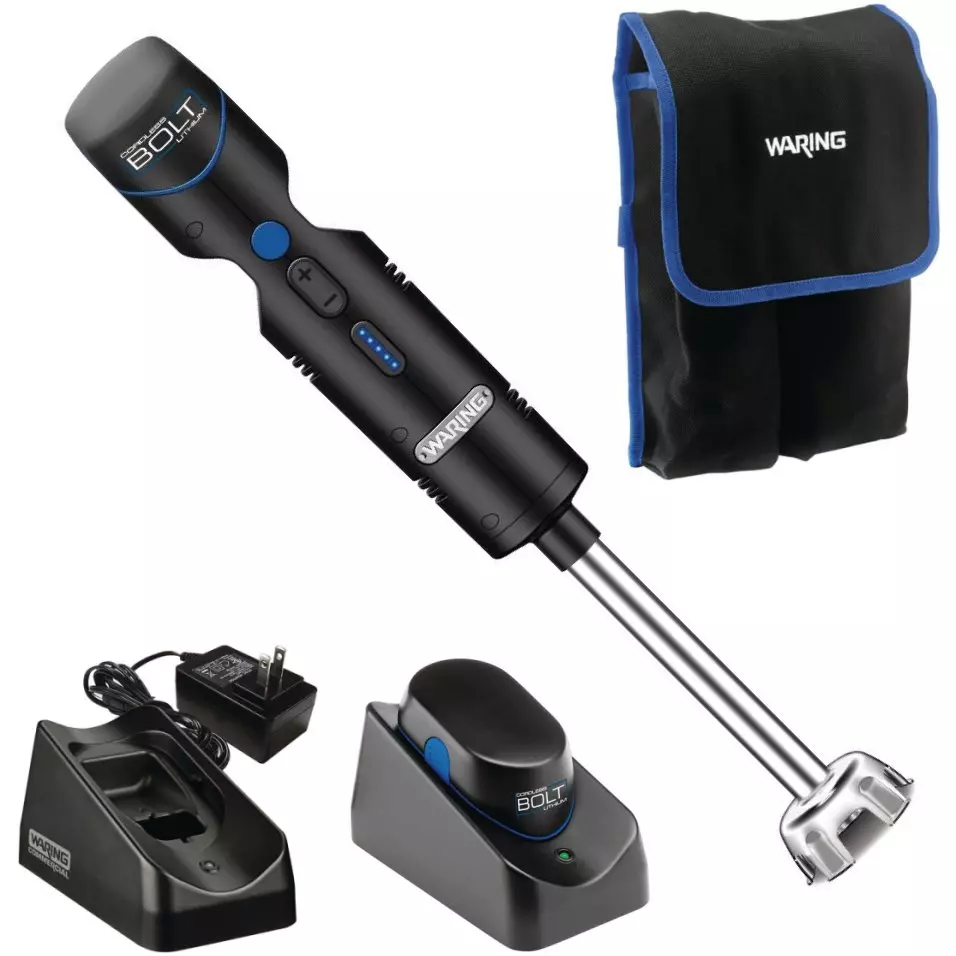 This is our number two pick on the list of cordless immersion blenders manufactured the Waring Company in America. It is a popular commercial stick blender company that manufacture items ideal for chefs in the US and produces other household models as well.
Key features
This cordless blender comes as a set including the battery charging/docking station and a quick charging circuit that takes approximately 1.5 hours. The battery is 10.8V Li-ion. It features 178 mm/ 7 inches removable dishwasher safe blending shaft for mixing up to 15 litres. It also has LED indicator lights that show speed and power status. It also has variable speed settings ranging from 5, 000 to 13, 000 RPM. It comes in black colour alone and measures 438H x 70W x 102D mm.
Pros
• It has a rubberized comfort grip.
• Has removable dishwasher safe shaft.
• Features variable speed motor.
• Has continuous on function.
• The battery is powerful and charges faster.
Cons
• There is concern about its durability.
• It is quite expensive.
Braun MQ777 Cordless immersion blender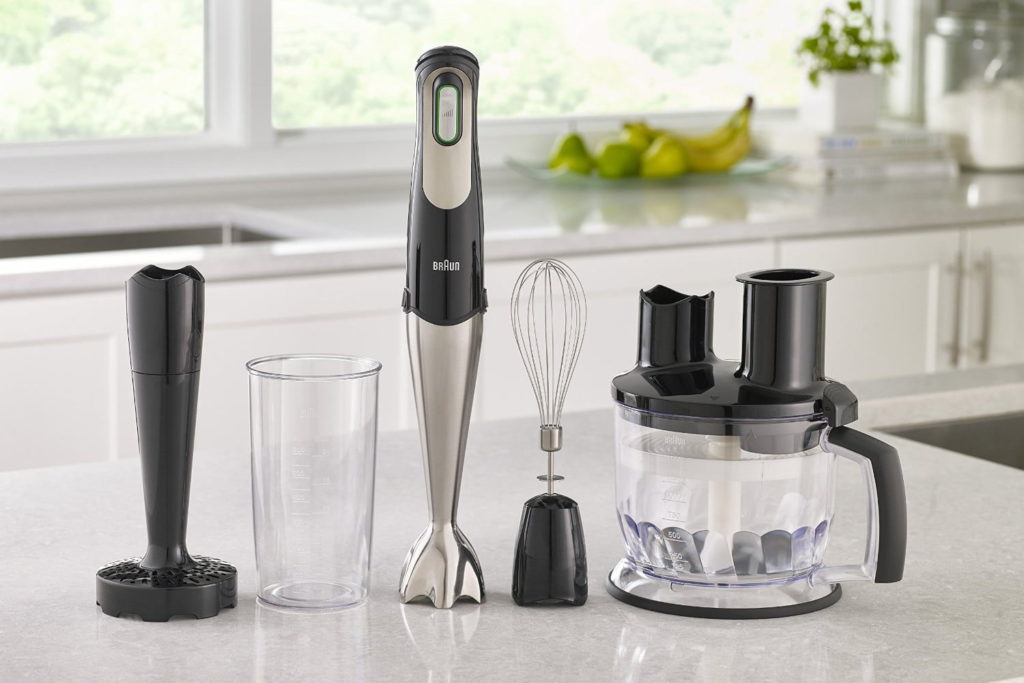 The Braun cordless immersion blender is known for being sleek and versatile. This model from Braun which is a well-known brand with its items sold all over the world.
Key features
This model has a 400 watts motor which is more powerful compared to most immersion blenders found in this price range. It has an ergonomic handle made of rubber for a comfortable grip. It has smart speed adjustment which you use the fingers to adjust it. Applying much pressure makes the blades to rotate faster. The speed of the blades, therefore, is determined by the pressure of your finger.
This immersion blender also features other kitchen appliances with attachments for beaker, masher, 6-cup food processing bowl and a whisk. The parts dishwasher is safe for simple cleaning and the BPA-free for health safety. In addition, it has the safety lock for safety purpose if you have kids in the house.
Pros
• It is lightweight.
• It is a high-end blender.
• Has a safety lock for safety purposes.
• Comparatively quieter when operating it.
• Features strong stainless steel blades.
• It is very powerful.
Cons
• Slightly expensive compared to other hand blenders.
Cuisinart CSB-100 Hand Blender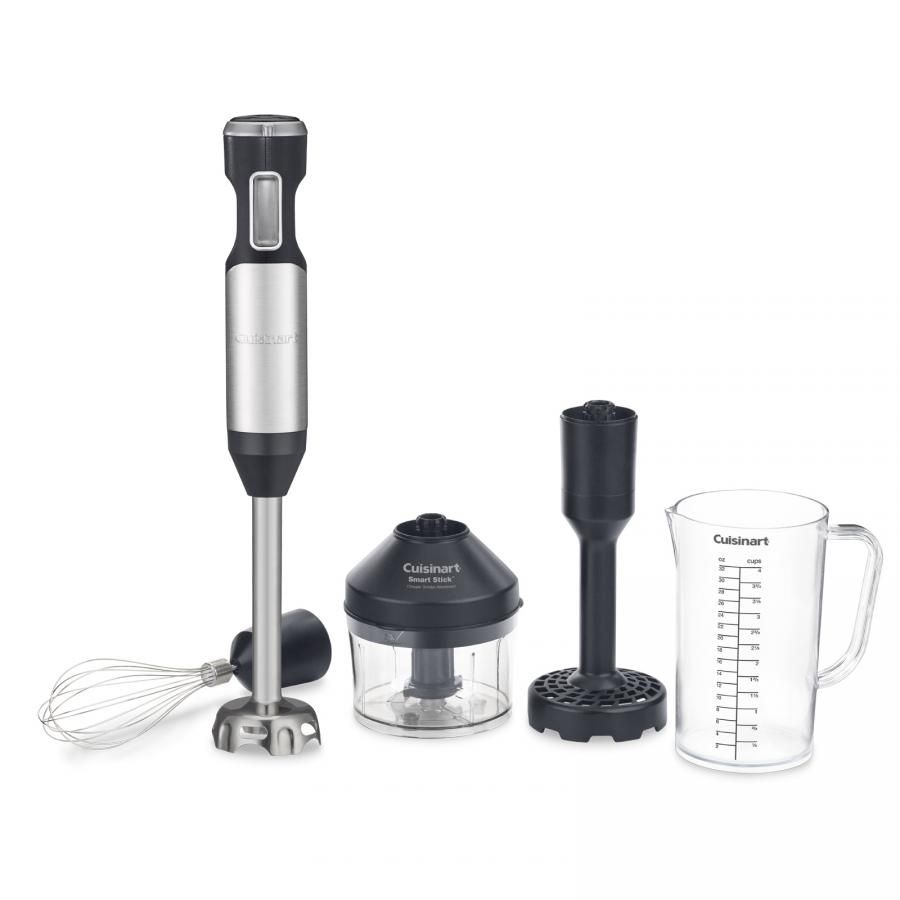 This blender stands out among the most of the rest cordless immersion blenders in the market. It has excellent performance and is affordable. It is faster in terms of speed and can be used in the processing of a variety of recipes in the kitchen like soups, smoothies, baby food and sauces. It can also be used to chop nuts and do other tasks.
Key features
The Cuisinart CSB-100 features a powerful 600 watts motor that is capable of handling most tasks. It has variable speed control positioned on the handle of the immersion blender. It has the on/off and turbo settings and a pulse option. It has a larger blending head to minimize splatters while blending. The blending shaft is made of stainless steel that makes it easier to clean up. It is also long enough so that it process ingredients.
Pros
• It is affordable.
• Has excellent performance.
• It is much faster.
• Has a powerful motor, 600 watts.
• Has variable speed controls.
• Has bigger blending head that minimizes splatters.
• Has long designed shaft made of stainless steel for easy cleaning and uniform mixing of ingredients.
Cons
• The twist-lock blending shaft isn't simple to detach or attach.