This is the best way to keep your kids away from mobile and electric gadgets. Scooters cycle are fun to play with, they improve the kid's flexibility and helps them with their balancing ability. If your kid is getting bored with old toys, you can gift them this affordable scooter/scooty to bring excitement in his life. They will have some active play in their life. Below we have some best selling scooter for kids In India
Our Top Picks 2023
There are many types of scooty/scooters available for different ages. If you have a kid of 3-5 year old then go for 3-4 wheels scooter/scooty that make it easier for kids because this scooter is more stable. Whichever scooter you buy you must know all the features, price range, warranty, durability, etc. Once your requirements get filled go for the best option and take your decision. Below is all feature related to best Scooter For Kids In India Under 2000
Toy House Two Wheeled Metal Folding Scooter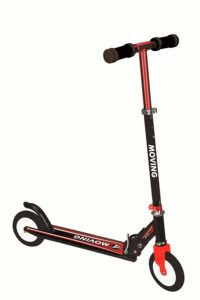 Toy House Scooter is adjustable with as per the height of your child, It is made up of Metal and has Soft Handle. The Rear Fender Brake Adds To The Safety for kid/children Toy House Scooter can carry up to the 50kg weight. The product is available in various colors
Toy House Scooter 6 Months Warranty
R for Rabbit Road Runner Scooter for Kids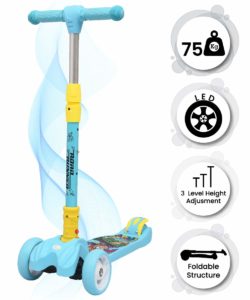 R for Rabbit is for children of 3-14 years & carry up to 75 Kgs weight. Kids can control the turning and balance easily by physical inclination. ABEC 7 Bearing wheels help in smooth and fast turns while riding. It does not need a kickstand it balanced itself. However, if you are looking for a product that is more costly, you can opt for R for Rabbit Road Runner Scooter for Kids. The product is available in various colors
R for Rabbit Scooter has 1 Year Warranty
Sufi World ® 3-Wheel Height Scooter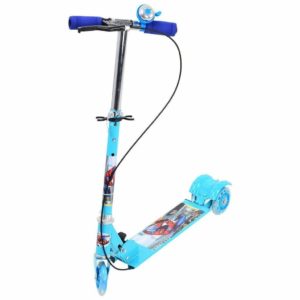 Sufi World is made up of welded steel frame, It has Colorful LED Lights in the wheels which glow when you ride the scooter. It is foldable for carrying anywhere. Brake & Bell also added & has height adjustable can be Increased up to 74cm. The product is available in various colors
Sufi World Scooter Has No Warranty
BAYBEE Funbee Ninja Skate Scooter 3 Wheel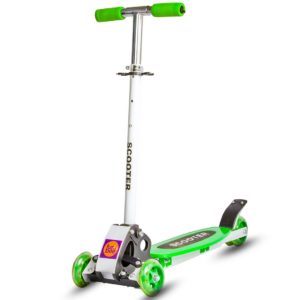 BAYBEE Funbee products are en certified by European standards for the safety of kids. BAYBEE Furbee kids scooter is designed for 3-12 years child as it is adjustable in height from 23.5 inches to 33 inches. It is easy to ride as it has 3 wheel scooter gives more stability and safety. They learn easily how to balance and lean to steer on this scooter.
This Scooter has the feature of rear brake design which makes kids control the turning and keep balance easily by their legs. When child tread on the rear brake, it will stop quickly. The good quality aluminum reinforced brake pedal is easy to use and makes scooting stable and safe
BAYBEE Funbee Scooter 6 Months Warranty
Dash Noddy Deluxe 3 Wheel Adjustable Scooter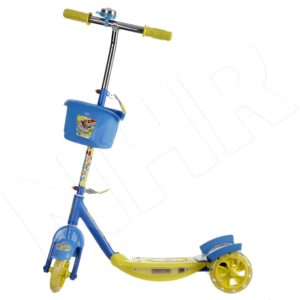 Dash Noddy Deluxe scooter has an efficient brake to provide enough stopping power when pressed with the and has smooth gliding wheels, strong metal frame construction, integrated handlebar bell with the basket. It is foldable and light in weight so kids can carry it anywhere. Dash Noddy Deluxe scooter is for 4 to 9 years and can carry up to 45 kgs weight. The product is available in various colors
Dash Noddy Deluxe Scooter 6 Months Warranty
For now, I m done, Do let me know which scooter you selected for your kid. If you have any further questions, do feel free to reach out to me using the comments section below or mail me an inquiry.