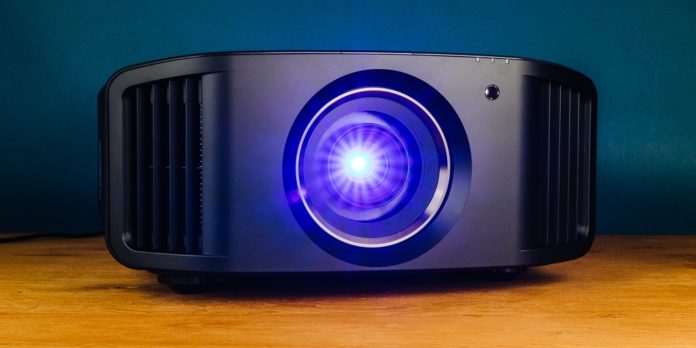 Up until recently, finding a projector for under $100 was unthinkable. Today, there are plenty of models that meet that criterion but finding the one that is not a total waste of money can be tricky. These small projectors lack the power their bigger and more expensive brothers have, so they aren't suited for some applications. For instance, most of them support the native resolution of 800 x 480 but can put up a picture in 1080p, after a fashion. That makes them unusable for business presentations, as the image is too fuzzy for reading PPT or Word documents. As a part of a home cinema, they can do the job just about right but don't expect superior quality or you will be disappointed.
Projector APEMAN Mini Portable 3500L Video Projector LED with Dual Speakers 45000 Hours Support HD 1080P HDMI/VGA/TF/AV/USB, Laptop/TV Box/Phone/PS4 for Home Theater Entertainment [No Noise Version]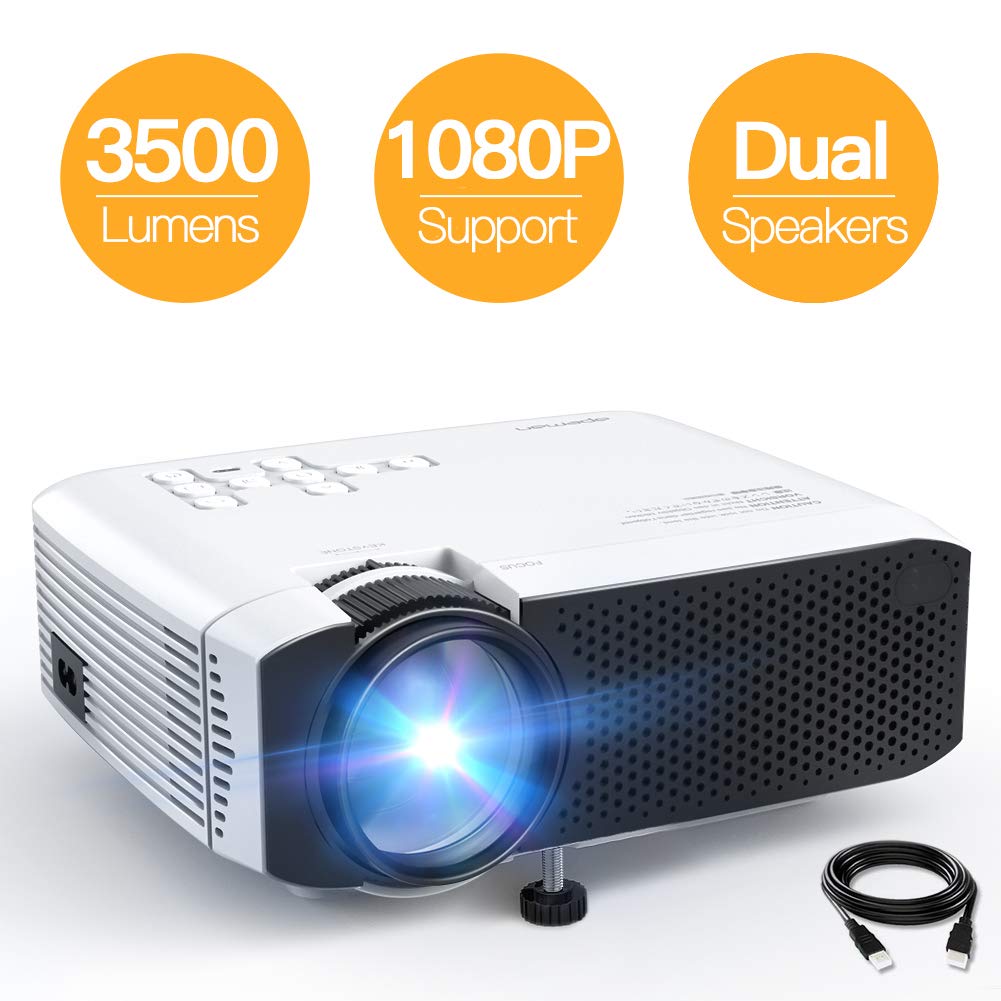 APEMAN Mini Portable 3500L Video Projector comes with an incredible 3,500 lumens brightness. It can be hard to believe that they managed to pack so powerful lamp in such a small unit. Powered by the latest 4.0 LCD technology, it is capable of throwing a screen of 180 inches. It supports several types of connections, like HDMI, VGA, USB, RF, and PS4, but there is no Bluetooth, so everything must be connected via a cable.
VANKYO LEISURE 3 Mini Projector, 1080P and 170" Display Supported 2400 Lux Portable Movie Projector with 40,000 Hrs LED Lamp Life, Compatible with TV Stick, PS4, HDMI, VGA, TF, AV and USB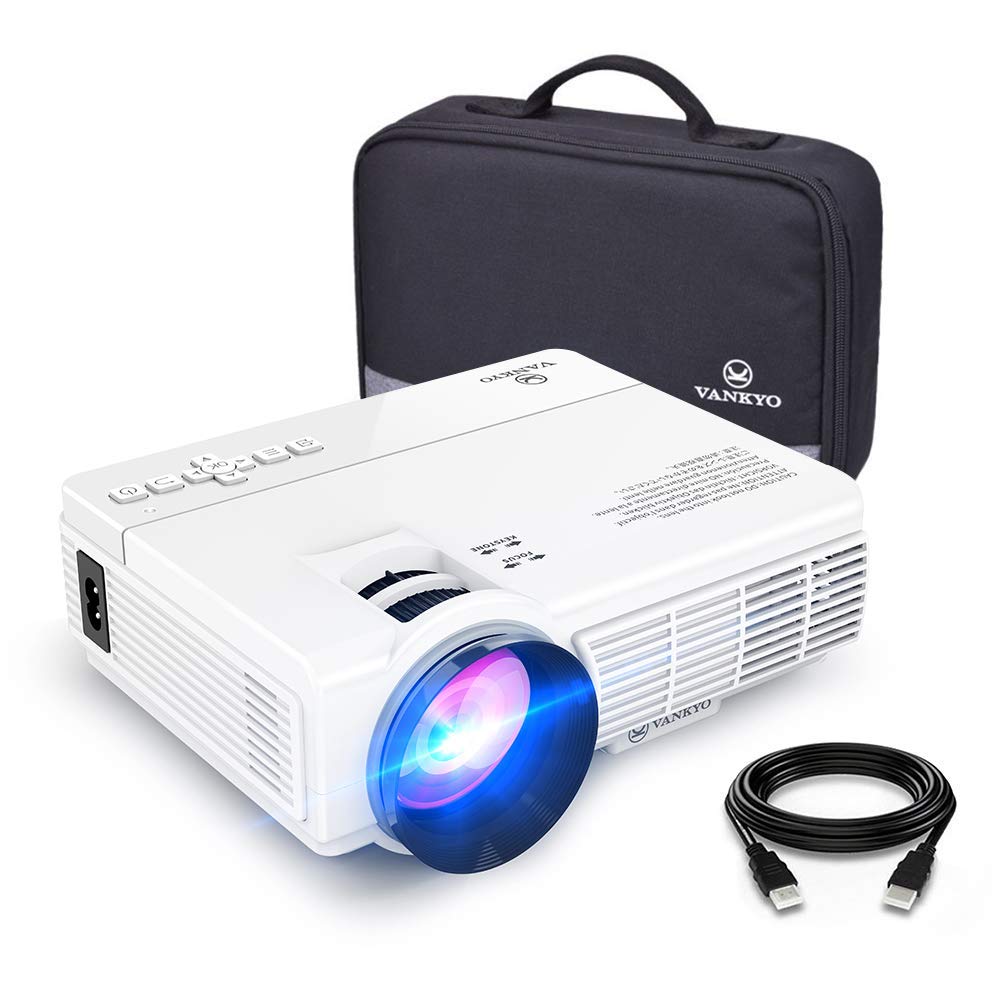 VANKYO LEISURE 3 Mini Projector is one of the easiest projectors to set up on our list. Its plug and play feature allows it to connect to multiple video sources, from gaming consoles to phones and tablets. Native resolution is 800 x 480. IT also comes with inbuilt speakers, so if you can't afford the audio system, these will carry you over until you save enough money to buy them.
DR. J Professional HI-04 1080P Supported 4Inch Mini Projector with 170″ Display – 40,000 Hours LED Full HD Video Projector, Compatible with HDMI, USB, SD (Latest Upgrade)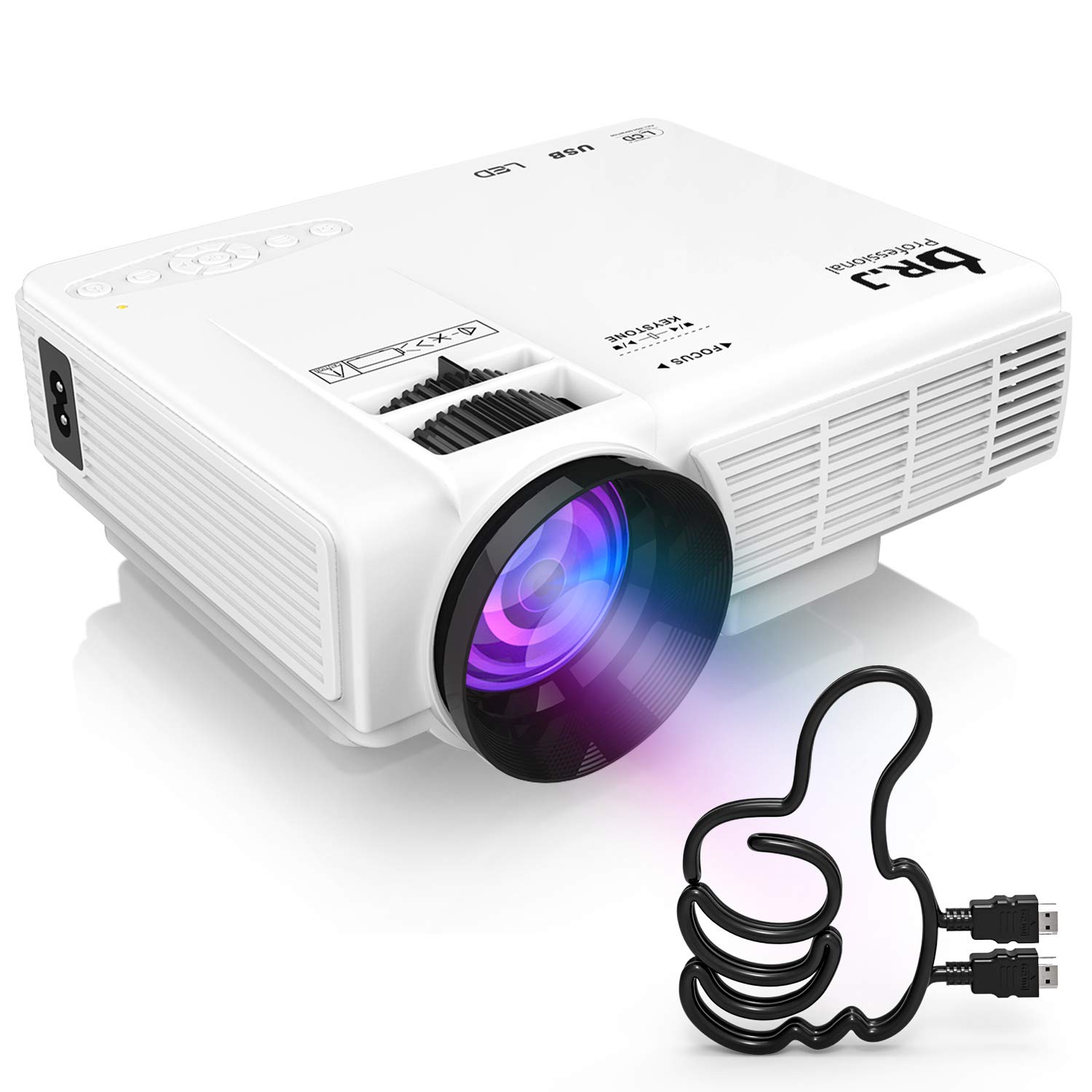 What we love about this DR. J Professional HI-04 projector is its lamp. With a lifetime of 40,000 hours, it will last you for a long time. Its native resolution is 800 x 480, although the manufacturer claims it is able to achieve 1080p (1920 x 1080), but take that with a grain of salt. The projector can cast a screen up to 176 inches at the distance of 5 meters and you get a free 100-inch portable projection screen. However, it just isn't sharp enough for any PPT, Excel, Word, or business presentations. As a home cinema projector, it will do just fine. The fan can be a bit noisy at times, so it may prove to be a distraction during a movie night.
iDGLAX iDG-787W LCD LED Video Multi-Media Mini Portable Projector with Free HDMI Cable for Home Theater Cinema Movie Night Game TV DVD Laptop iPhone Andriod Smartphone 1080P Compatible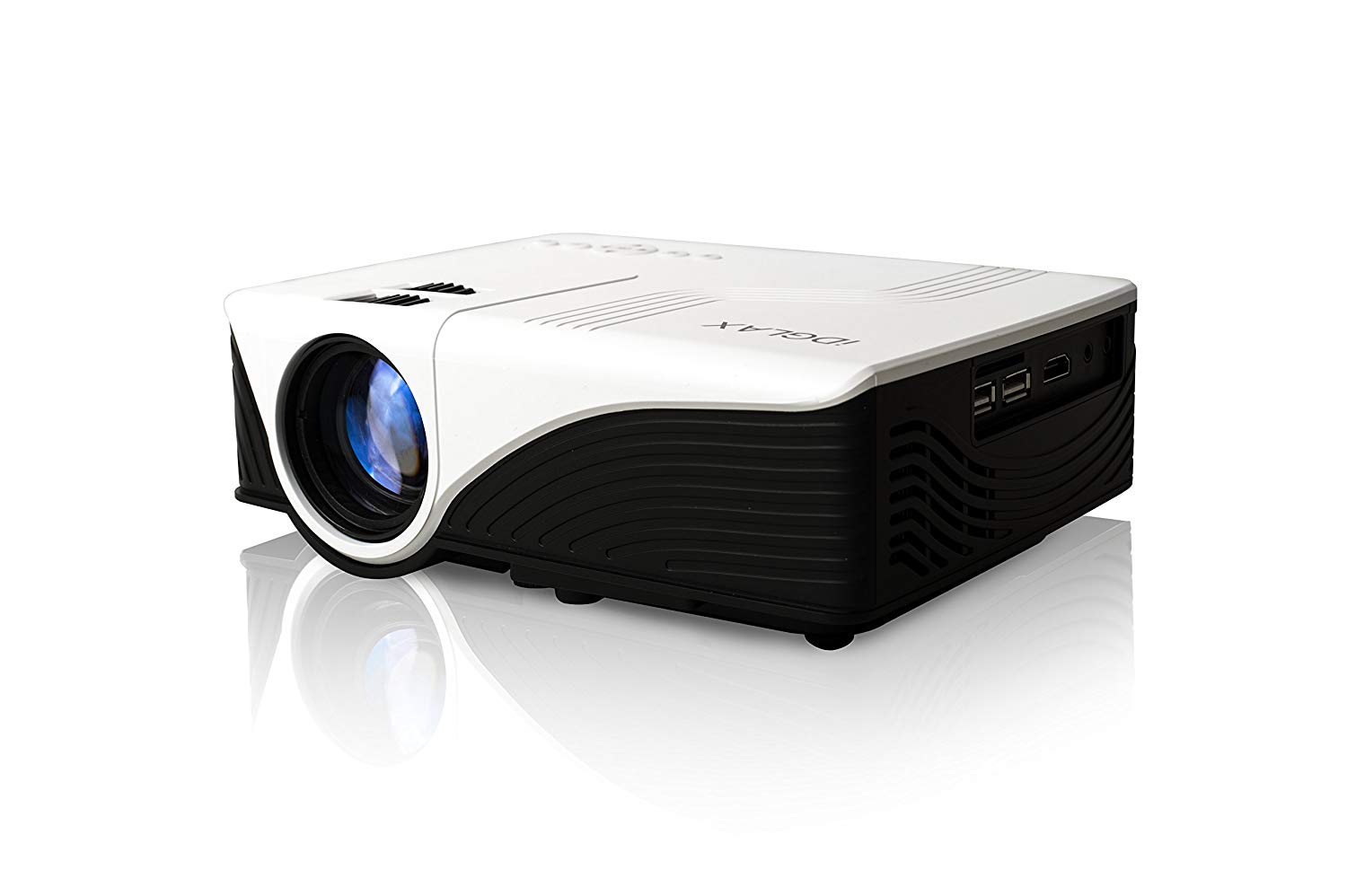 With 2,200 lumens of brightness, iDGLAX iDG-787W has more power than many expensive projectors. It only supports 800 x 480 resolution, so it can't be used in a professional setting, but as a cheap home cinema solution, it will work just fine. It is compatible with 1080p Full HD format. The projector supports wither 16:9 or 4:3 aspect ratios and has a contrast of 1,000:1.
From a distance of 6 to 9 feet, it will cast a screen of about 80 inches, although it is capable of making it a full 100 inch. As a bonus, you get a free HDMI cable with it, allowing you connect it to your TV, PC, tablet, or a phone. It also has VGA, USB, AV, and SD connections as well. One thing that can bother some people is a really noisy fan, which can be distracting.
One downside of its powerful lamp is that it tends to heat a lot, so you won't be able to run this projector non-stop. It should be good for a movie or two, though. Also, it doesn't have an audio output, so you have to settle for the unit's in-built speakers.
DBPOWER Mini Projector, 176″ Display 1080P Full HD LED Movie Projector, 50,000 Hours Lamp Life Home Theater Video Projector with HDMI Cable, Compatible with USB SD VGA AV TV Laptop Game (White)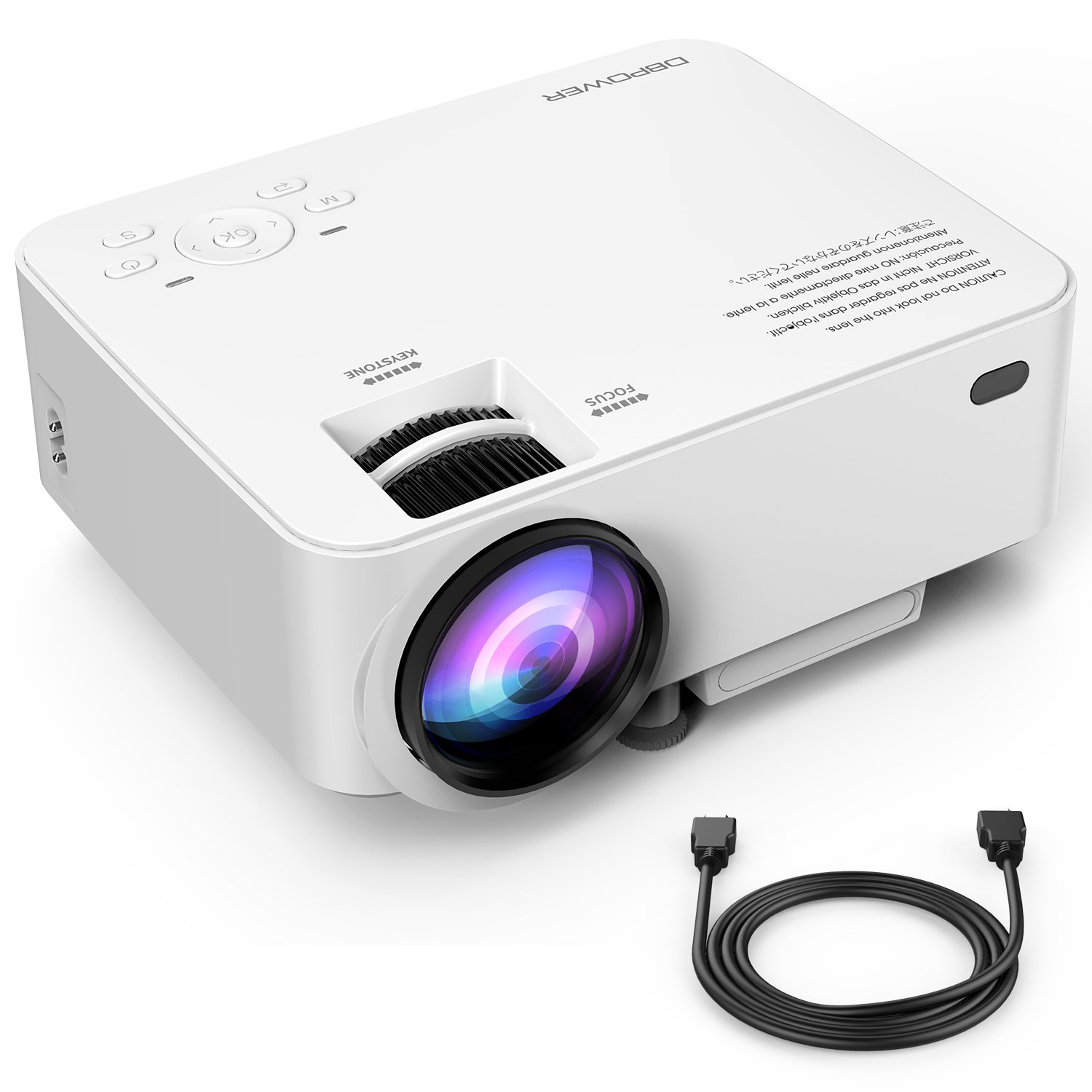 DBPOWER Mini Projector comes with a LED lamp that puts out just 1,500 lumens of brightness, which means you can only use it if you blackout the room almost completely. Almost any ambient light that gets through will have a significant impact on the images it projects. Still, for the price, you can't really complain. The projector is capable of throwing 1080p images at a screen of over 2 meters in diagonal. Unfortunately, it doesn't come with an HDMI port, which can be inconvenient, since you will have to get an HDMI adapter if your PC doesn't have a VGA output.