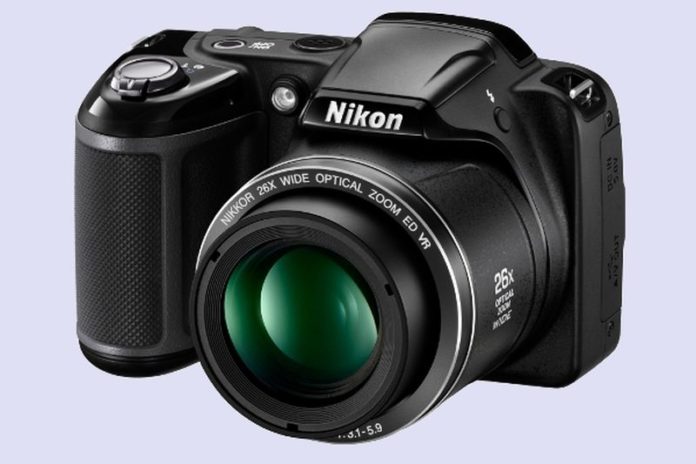 Nikon Coolpix L320 is an excellent, easy to use long zoom compact camera at a decent price. It is shaped like a compact DSLR while the camera has a large 26x optical zoom, 3 inch LCD screen, 16 megapixel CCD sensor, EXPEED C2 processor and works on AA batteries. It also features four automatic anti-blur functions which allow you to shoot crystal clear images even when zooming in real close to the subject. Paired with the wireless transfer via Eye-Fi memory cards, Nikon Coolpix L320  is very easy to use and quite comfortable to handle which makes it ideal for travelers and people who move a lot. This compact camera is only available in black color.
For those with a tighter budget who are interested in the flexibility, feel and shape of a DSLR, you'll be pleased to hear that the Nikon Coolpix L320 is a budget version of other models in the "L" range. It draws comparisons with the L820 because they share pretty much the same exterior. Equipped with a smaller zoom, L320 can reach to a maximum 26x optical which can still offer you an ultra-wide 22.5 mm before zooming to an astonishing 585mm. This feature is especially useful if you need to take a picture of some natural event which is occurring to far away. It also has the ability to shoot 720p HD videos.  Zoom switch and the power button can be found wrapped around the shutter release on the corner of the grip and on the main tip plate respectively. The power button is pressed into the body so it can't get caught accidentally.
Main controls are located on the rear of the camera and are easily accessible by the thumb that will naturally be positioned there. The video record button is on the shoulder and can be used whether you are taking pictures or not.  This design of the large grip makes it easier to hold and shoot with one hand. If you want to choose a mode to take pictures in, you can press the green button on the back. The menu is designed to be simple and effective. You can choose between four shooting modes: Easy auto, Scenes, Smart portrait, and Auto. The Easy mode is basically an automated version of Auto mode. It selects the correct mode for the scene it's viewing. For example, if it locates a face it will automatically switch to portrait mode, enabling face detection and the flash. The Scenes gives you total control of choosing The Scene you want to shoot in. The smart portrait takes advantage of every mode and feature of the camera so you can get best portraits such as face detection, blink detection, skin softening and red-eye fix. Finally, the Auto mode is for everyday shooting and if you don't want the camera to mess with your photos. Because of the sensor overhaul that the new range of Nikon digital cameras have gone through you get a very solid image quality for a decent price.
In this Nikon Coolpix L320 review, we talked about the features you get from this mid-range priced camera. It is a refreshment in the already saturated market of digital cameras. Because of its features like 26x optical zoom, 16 megapixel CCD sensor, four automatic anti-blur functions, wireless transfer via Eye-Fi memory cards and 18 different scene modes, Nikon Coolpix L320 is the right choice for casual photographers who are often on the move.