iOS 14 update for iPhone is a welcome change in terms of aesthetics and functions. Apart from the App Library, redesigned Siri and call interface, and hundreds of small additions, one change caught everyone's attention. Users can finally add redesigned and resizable widgets on the home screen. If you are looking to get useful widgets on your iPhone then read-along to spruce up the default look of the home screen.
The App developers are already hard at work to update their apps with widget support for the iPhone 12 series. Among them, not all widget solutions are spot on.
We have compiled a list of the top ten apps that offer informative widgets on the home screen. Let's start the list with the ClimaCell weather app.
1. ClimaCell Weather Assistant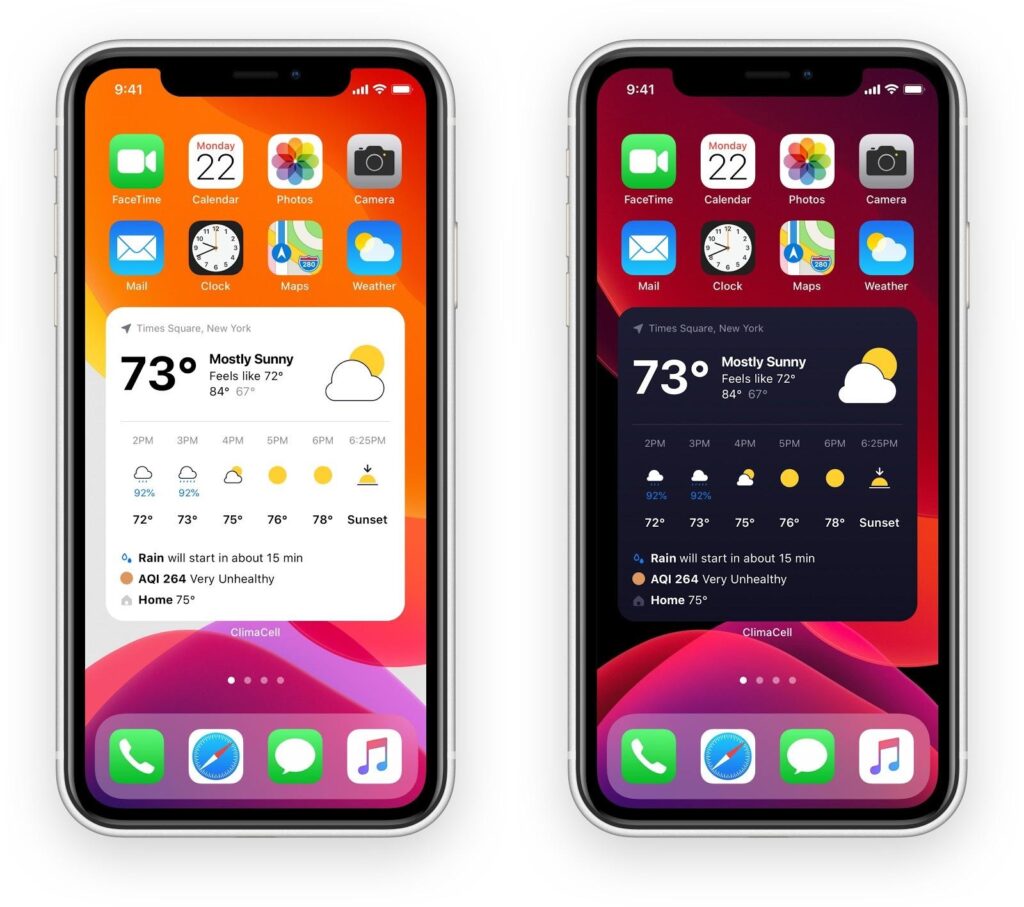 The default iOS weather widget does the job for the majority out there. But if you are looking to level up the whole experience then look no further and download ClimaCell.
Users can add work and home location during setup. The iOS 14 widget is full of useful information such as temperature, weather forecast, AQI levels, and one can even glance at the home/work temperature using the widget. You can choose from the Medium or Large widget to add on the home screen. And it plays perfectly fine with the iOS system-wide dark theme.
Other features include maps integration, health and activities, track days to get notified about forecast changes, and stories add-on.
ClimaCell is completely free to download and use.
ClimaCell – Download
2. Gmail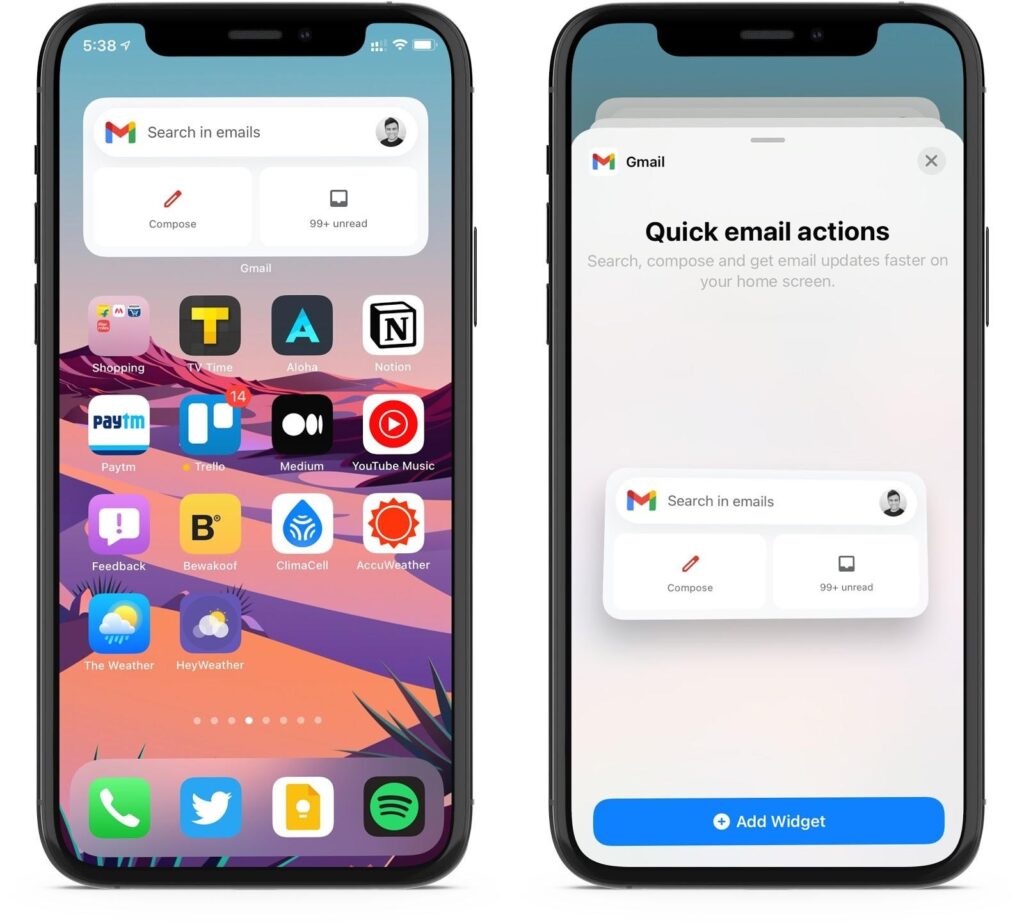 Gmail is the most popular email client out there. With iOS 14, Apple is allowing users to change the default Mail and Browser app on the iPhone. Gmail is right up there with necessary changes and a handy iOS widget to take necessary actions quickly.
Simply, long tap on the home screen and add the Gmail widget on the home screen. There is only one widget to choose from. It lets you quickly search for emails, compose an email, and even peak at unread emails without opening the app.
You can always long tap on the widget and choose a different account to showcase Gmail account details.
Gmail – Download
3. Apollo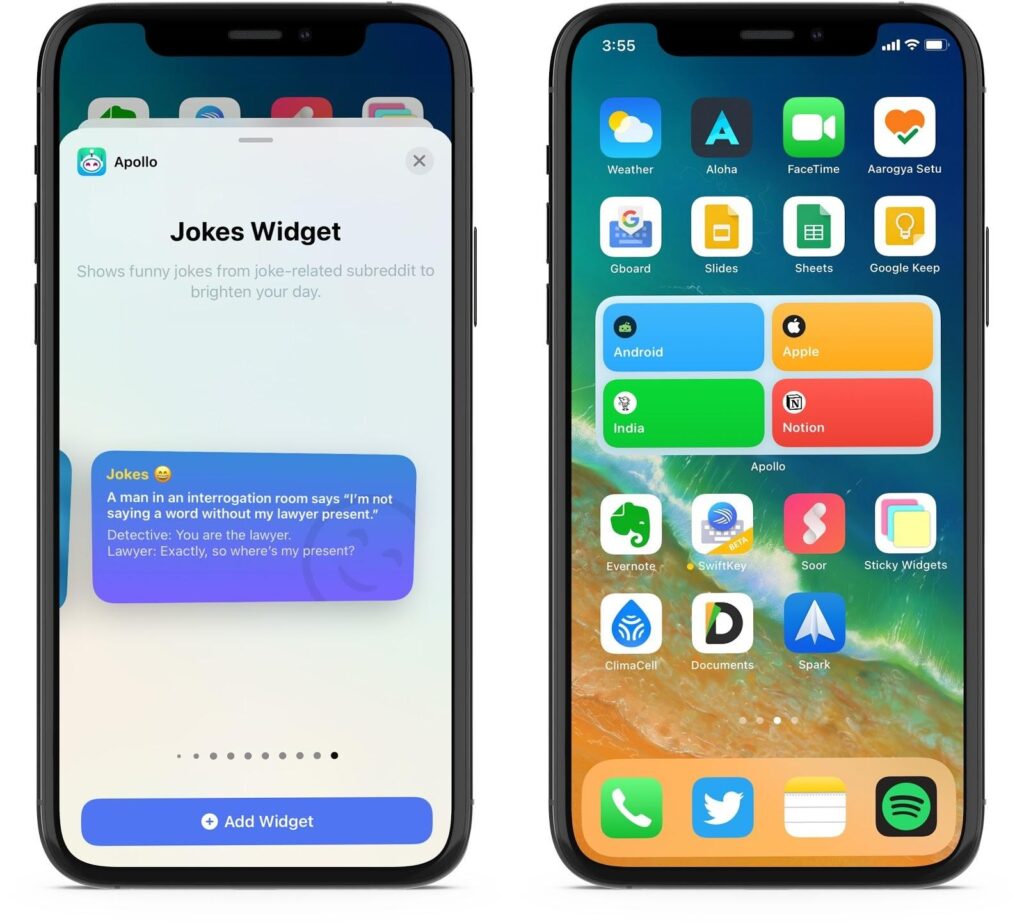 Apollo, a popular third-party Reddit app on the App Store, is one of the first apps to implement widget support on iOS 14. There are 10 widgets (yes, you read that right) to choose from.
You can add a post widget, wallpaper widget, add shortcuts to the subreddit, or pin a random shower thought or joke on the home screen. There is something for everyone.
All the widgets are neatly designed and have nice attention to detail. Go ahead, try them using the download link below.
4. Google App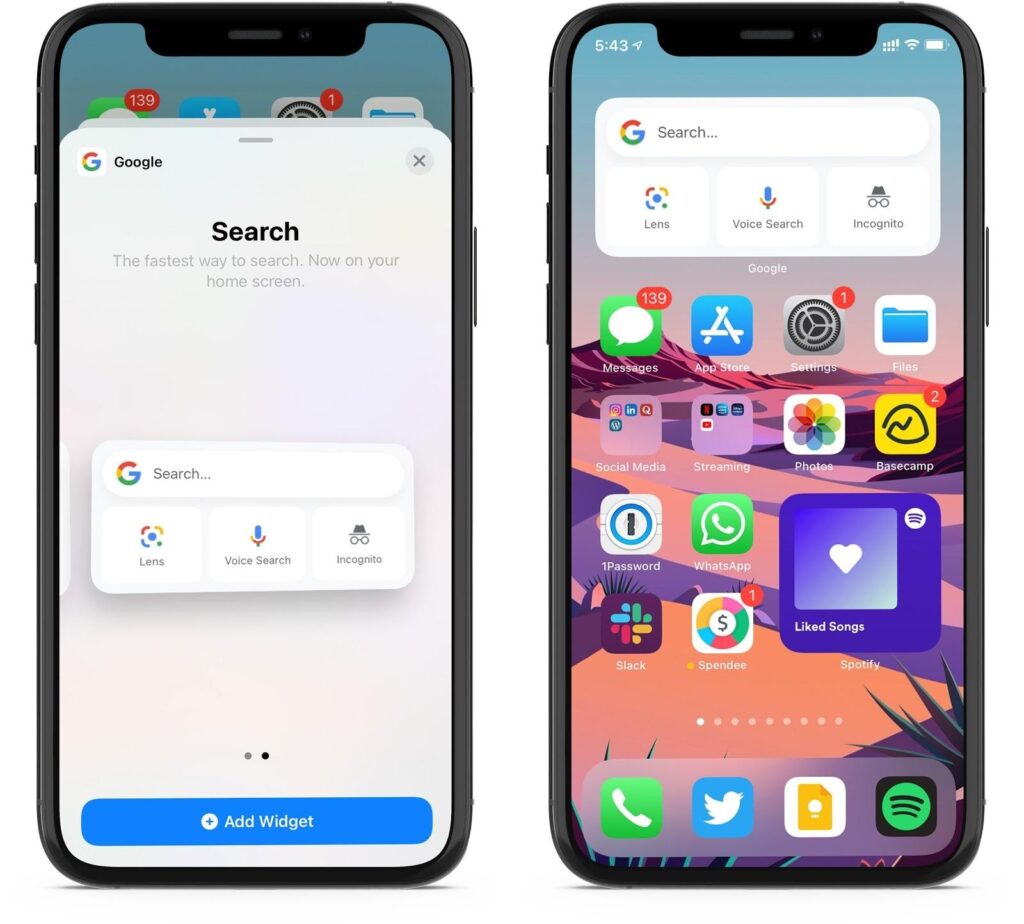 As an Android convertible, I always wanted to place a Google search bar widget on the iPhone home screen. With iOS 14, the search giant is offering a neat Google app widget that allows users to quickly enter a query, use Google Lens integration, voice search, and Incognito mode right from the home screen.
I have been using the Google app widget since its introduction and it does seem useful for quick searches and queries.
Google App – Download
5. Notion
While I'm not a fan of their mobile apps, I do like what the team at Notion did with the iOS widget.
Simply open the widget menu and you can choose from multiple widget sizes and styles. As for options, you can add favorite Notion pages and recent pages in different sizes.
From the home screen, you can quickly jump to a Notion page without going through the app. The quick add-note toggle is useful to dump all those quick thoughts in Notion.
6. TunnelBear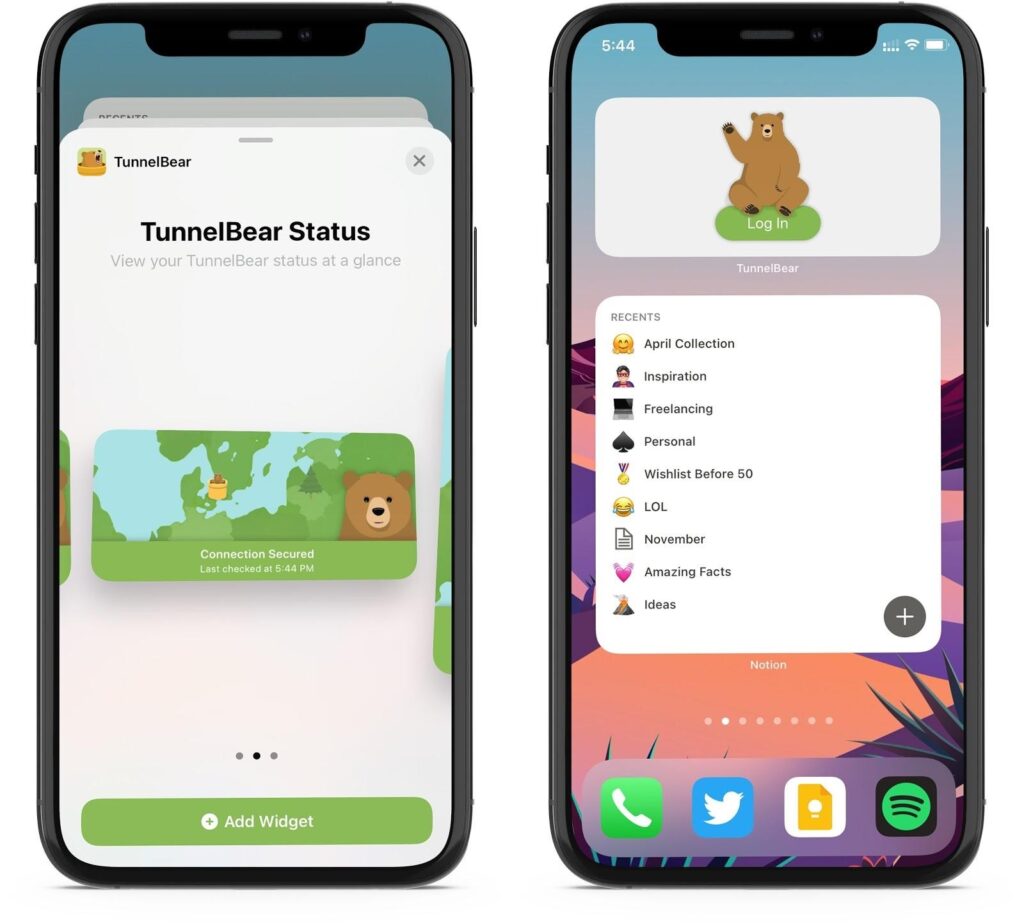 This one needs no introduction. TunnelBear is one of the best and reputed VPN services out there. Using the TunnelBear widget, one can quickly connect to a location server and see the live stats.
TunnelBear offers three widget sizes to choose from. In most scenarios, you will be mostly fine using the Small or Medium widget.
7. Spotify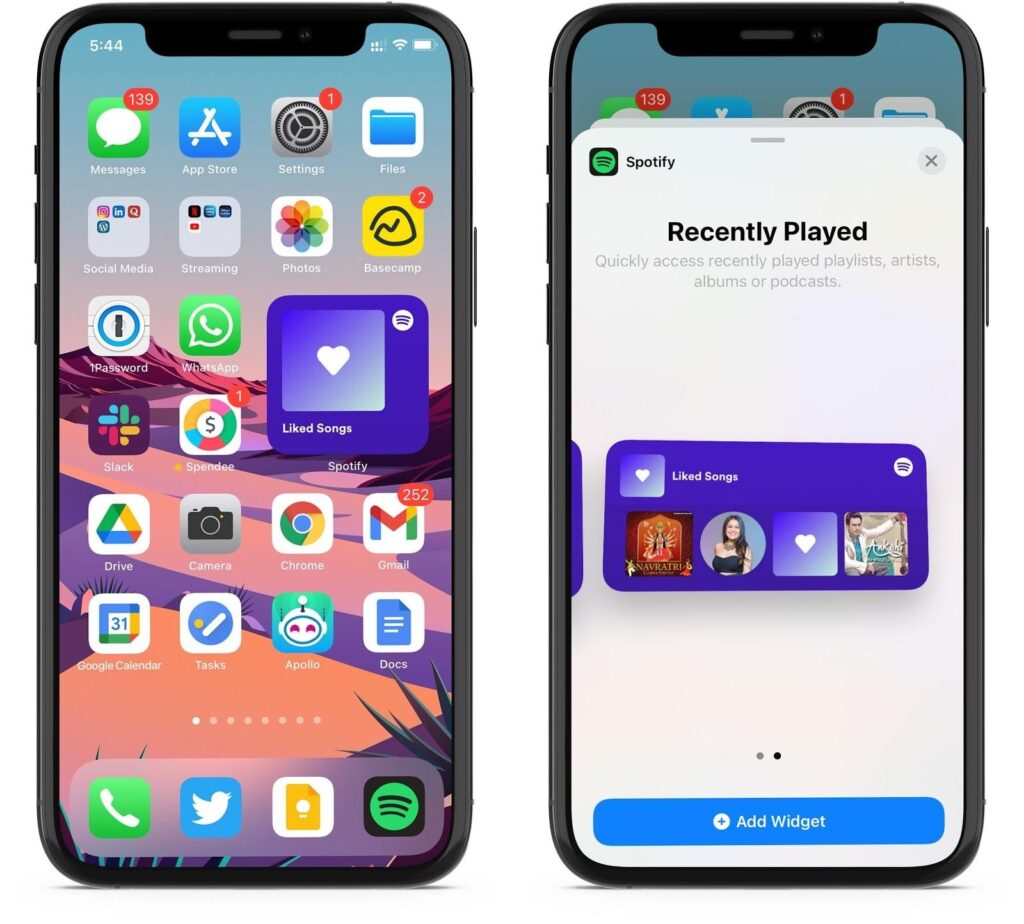 Spotify – the world's most popular music streaming service has added the iOS 14 widget support on the iPhone. The widget choice is limited to two but it gets the job done for the user.
The widget shows the recently played songs from the created playlists. Spotify is my most-used widget on the home screen. It quickly allows me to jump to a playlist and start playing a song.
8. Unwind – Mindful Breathing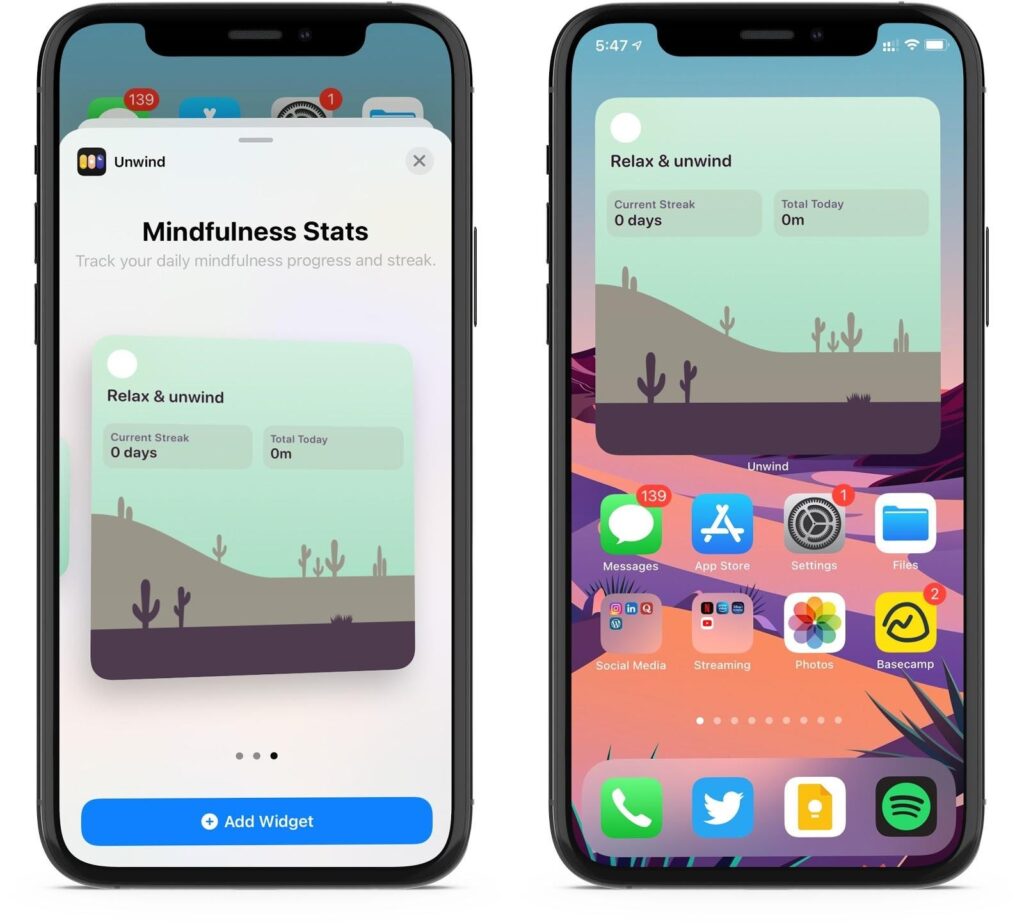 Unwind is a refreshing, delightful, and distraction-free mindful breathing companion to help you with meditation and get you through the day. Unwind widgets can now be added right on your home screen to quickly glance at your daily mindfulness progress. The widgets come in all sizes and are configurable.
9. Battery Widget and Color Widgets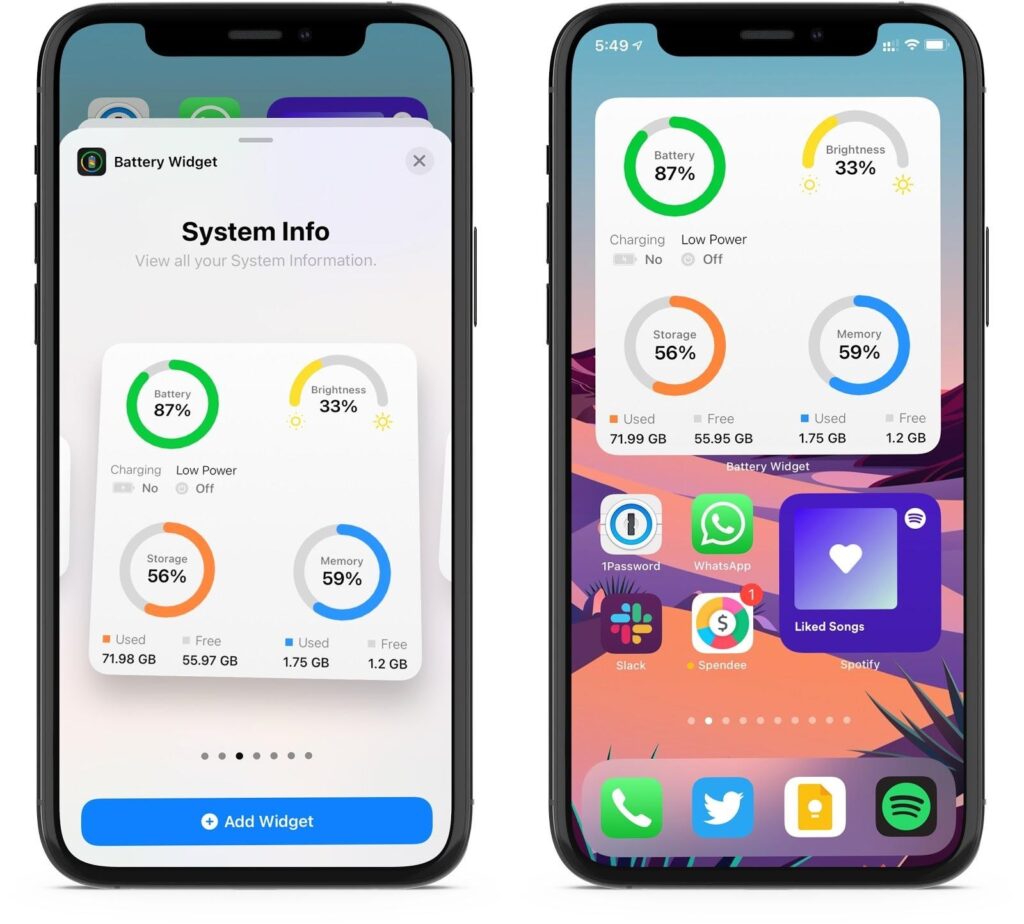 If you are looking to keep a tab on essential information like a battery, storage, screen brightness, storage, and memory, then the Battery Widget & Usage Monitor is the one you should use. The widget is fully customizable and lets you access all the hardware information on the go.
What's more, you can also use this widget to track network information like Wi-Fi network and cellular data network connection status. The app follows a freemium business model. You will need to upgrade to unlock all features.
10. Apple News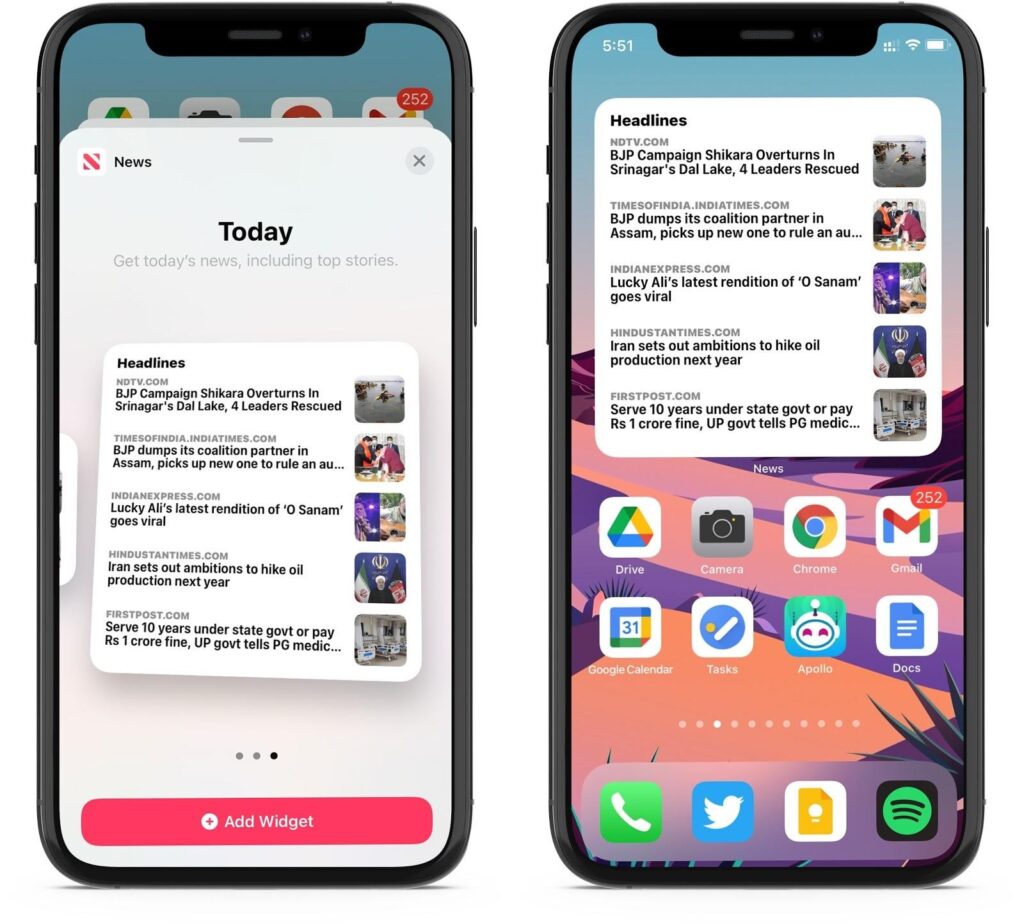 Do you like to keep yourself updated with the latest happening around you? If the answer is yes then go with the Apple News app on the iPhone. The default Apple News widget allows you to read stories from several topics including technology, politics, sports, entertainment, business, and more. Better still, it's available for free and supports several languages.
Level Up Your iPhone Home Screen
Go through the apps list above and customize your iPhone home screen like a pro. Spotify, ClimaCell, and Notion are three of my most used iOS widgets. What about you? Share your opinion with us.