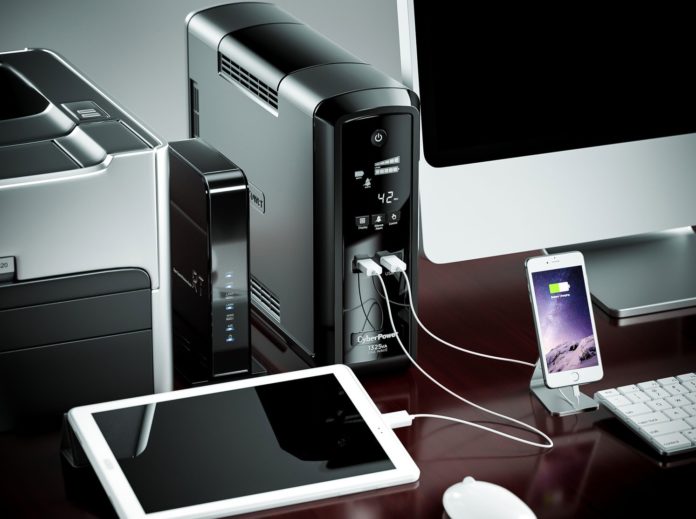 Hey Guys, Looking for the best UPS for PC in India? UPS is a solution to tackle the sudden absence of electricity. In India, many countries or villages have power cut issues. If you are a work office or home on the computer and suddenly power cut is a very big issue. It damages your computer and also a chance of losing your data. The UPS is helping to stop your losing data on a computer by producing battery backup.
Our Top Picks
So, It is better to buy a UPS for home or office. We give a list of top five best UPS for PC in India. This is very powerful and comes with a good battery backup.
What is UPS?
UPS (uninterruptible power supply) is a device that provides battery backup on your PC when a sudden absence of electricity.
Best UPS For PC In India – Reviews & Buying Guide
1. Intex 1000VA Gaama UPS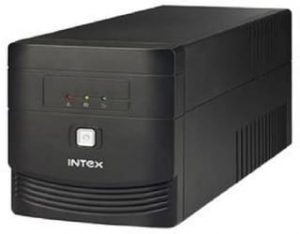 Intex is a more powerful and higher rating UPS product on the list. It covers a 1-year warranty on the product. The highest VA rating UPS input range is 140 – 300 VAC. It is packed with a dimension of 45 x 25.4 x 19.8 (Wx H x D)cm and with a weight of just 8.5 Kg.
It can sustain up to 660 W power with a 12V / 7AH x 2 battery. This model is mostly preferred by home use. The backup time of the single PC up to 50 minutes.
The complete charge in 8 hours after this able to charge your pc without electricity.
Key Features:
One year-long warranty.
Voltage Range 140-300VAC.
1000VA / 600W output power capacity.
It produces less than 40 dB of noise.
Its recharging time is 8 hours.
LED indicators inform you to a battery is fully charged.
2. APC BX1100C-IN 1100VA 230V Back-UPS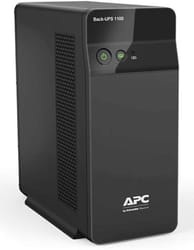 The APC 1100 VA has built-in a modern look. It is one of the exceptionally trusted brands in computer accessories. UPS has a nominal input voltage of 230 V and its range of 145 – 290V for main operations. Total output power capacity 660 watts/1.1 kVA.
The battery charging indicator is finished top on the side on UPC which helpful in distinguishing how much it has been charged. It also has a low battery indicator.
It just takes 10 milliseconds to switch from power supply to battery backup after power is gone.
Key Features:
It doesn't create a lot of fan noise.
Expensive but worth your money.
It is compatible with low power loads.
Up to 4 – 6 hour recharging time.
High-speed charging capacity.
A flexible long cord is available.
3. APC BX600C-IN 600VA, 230V Back-UPS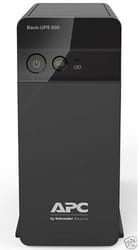 Next on our list is APC BX600C-IN 600 VA. The APC BX600C UPS has 145 input and 230 output voltages. The audible alarm gives a notification when their battery is needed to charge.
With this device, you can charge 3 devices at a time. If you are using only a single PC, it should run for 50 – 60 min. It just takes a 3 m time to transfer a power UPS to your PC. This high-efficiency output model is ideal for both home and office purposes.
Its 7 AH battery run a long time which means it average life is 3 year.
Key Features:
Longest battery life.
1.2 m cord length.
Low battery indicator.
Its recharge time is approx. 5 hours.
Easy to read display, Sleek size, unique design.
It has provided 2 years of product warranty.
4. iBall Nirantar UPS-621V 600VA UPS with Power Protection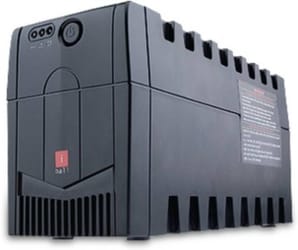 iBall Nirantar UPS-621V 600VA is a fourth-best UPS in India on our list. Normally other inverters compatible only PC but this device compatible with the DVR system, CCTV camera and PC. It weighs only 4.25 Kg. It can back-up 1 x 4 CH DVR and 4 Cameras for up to 3 hours without a monitor.
This is furnished with an automatic voltage regulator for Boost & Buck. Also, covered a full protection system against extra overloading. Its noise level is not greater than 40 dB that means it works a silent mode.
Key Features:
Auto restart while AC recovery.

94.1 % efficiency level.
Simulated output sine waveform.
Maximum 10 ms transforming time.
It does not have a digital display.
5. VGUARD UPS SESTO 600 – 600VA- Application Desktop UPS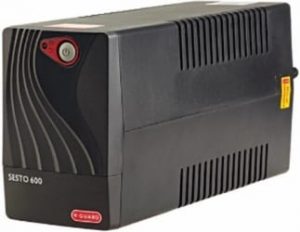 This is a fifth-best UPS for pc in India on our list. The UPS comes covered with a 24-month long warranty and can sustain up to 300 W. The cord is too long that made of good-quality.
Its lightweight product with the work with very powerful function. This unit backup power up to 15-20 minutes on your devices when it full charge condition. Also, has a superior power transfer rate of just 3 microseconds. This comes to four outlets plugs for easy to charge four devices at a time in emergency circumstances.
Key Features:
Reliable battery backup.
Overload protection indicator.
It comes with 4 powerpoint.
Has capacity is 600VA/300W.
Simulated sine wave.
Personal Recommendation
APC BX1100C-IN 1100VA 230V Back-UPS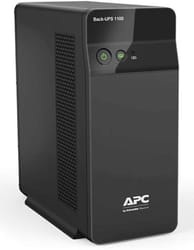 I hope this review is useful to you. Even now you confuse to choose one out of five then we suggest APC BX1100C-IN 1100VA 230V.
Best UPS Brands
# Intex
# APC
# iBall
# V-guard
Frequently Asked Questions:
What is the UPS unit?
The devices help in saving your computer data when suddenly power source is lost. Also, prevent damage to your computer hard disk.
What is the full form of UPS?
UPS's full form is the uninterruptible power supply.
Best Ups For Pc In India Buying Guide
A UPS is a computer accessory that supplies emergency power back-up during power outages. UPS's most common use is for pc or desktop computers. In India power outages are common, this is a big concern so UPS is used in many areas. If you're using a PC, it's the best idea to buy a UPS, especially if it's a work-related computer. You use a UPS with the computer so that in case of a power outage you can still save your files or documents you're working on.
What power status will a UPS battery backup secure against?
UPS is the best solution to prevent this damage. Like it secures ur Pc of Sudden loss of power or voltage up-down which causes serious damage to your computer. And A UPS basically lets your PC run on emergency power saved inside a battery, whenever there is an interruption in the continuous power supply.
Their many power problems develop in the commercial power company, which, with its a large number of transmitting lines, is subject to damage from climate variations such as lightning storms, ice, and flooding, as well as equipment failures and traffic injuries. UPS can help you save your files since it can extend power for about 20 to 15 minutes40 to 1 hour.
But before proceeding further, there some points which you need to check before buying the best UPS (uninterruptible power supply) for pc in India.
1. Decide The Type Of UPS You Want
The first step to choose UPS for your pc is to decide the type of UPS which would be most suitable for you. There are two primary types of UPS and they are online UPS and standby UPS. An online UPS is connected between the main power and the pc. It supplies the ability to your pc and provides power conditioning.
This means it prevents spikes, sags, noises and surges and a standby UPS is one which either provides main power or its own ability to the pc, based on which is available at that time. It shifts between both based on the requirement.
2. A number of power points
Power points are the devices that you want to be addicted to UPS. This is an important factor. You should make sure that how many devices you need to connect to the UPS. Usually, this will be three the main is the CPU, monitor, and Wifi modem. Make sure you get a UPS with enough power points.
3. The brand of the UPS
A UPS is, an investment that is done to protect your computer against dangers arising out of sudden power loss or voltage instability. Thus, always opt for a UPS from a reputed and well-established brand.
4. Backup Time
Another key factor is the amount of time that the UPS backs up your devices. Its backup may differ depending on the configuration of a computer system and other devices connected to UPS. A good UPS will have a backup time between 40 or up to one hour whereas a UPS for just to be able to switch off your computer safely, then 15 minutes is all you need.
This might not seem like enough, but the point of a UPS is to provide you with a lot of time to save and backup your work. It's not the same as a generator, which is used for offering backup power.
5. Look At The VA (Volt-Ampere) Rating
Another most important factor to look at the VA rating. While choosing a UPS, the VA of a UPS UPS basically signifies whether or not it will be able to provide the power needed to run your computer in emergency situations like a power failure. Before checking the VA rating of a UPS, check the wattage of your pc and basis that decides the VA rating of your UPS.
6. Wattage
This is one of the most key elements to consider while selecting a UPS system. The power of the UPS and it is presented in Joule/second unit measured by Wattage. The UPS circuit connects the computer, monitor, other peripherals and the total wattage. Add together the wattage of all the devices you want to include in the circuit and select a UPS system that can provide the complete wattage required.
7. Fix A Budget But Be Flexible
When selecting a UPS, you must set a budget for it in advance. Since there is no end to the price of the UPS system, you must be limited in your budget so that you don't overstep it and spend more than you can afford to. The UPS that you are purchasing has each and every function needed to protect your computer, don't think about a cheaper deal.
8. Look For Good Warranty
You also need to see the warranty that is being offered to you. The more the warranty the better will it be for you. So do pay attention to the warranty on different UPS devices. Warranty must cover damages of various kinds as only then will it be useful to you.
9. Other Features
User-replaceable Batteries

– You should choose for a UPS system that has the option of a replaceable battery because this is one such part that will have to be replaced from time to time. The best standard UPS batteries life lasts for 3 to 5 years.

Display

– UPS units come with Some high-end display that shows data and feedback from the unit and shows important information such as the remaining run-time of the UPS, the status of the battery, etc.

Number of Outlets-

It is best to opt for a UPS that comes with multiple outlets that allow you to connect in your computer system -monitor, CPU, Speakers, WiFi unit and peripherals into the unit.
10. Usage Tips And Tricks
Do not exceed the UPS by, for instance, connecting external devices like the printer, scanner and the fax machine. Keep in mind that never connect a printer to the battery backup system. To improve the charge of your batteries, you should disconnect them completely at least once a month. And finally, make sure the UPS is properly grounded all the time to prevent any electrical mishaps.
Related Reviews: