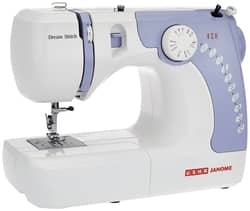 Hey Guy's, Looking for the best sewing machine in India? You are at right place here we explain everything about sewing machine with reviews and buying guides. Sewing machine fits almost anywhere in your house and still performs the best embroidery artwork or other stitching tasks.
Our Top Picks 2023
If you want to stitch fabric and other materials at home sewing machine is one of the best options for you. You can stitching task in minutes so you can save money and time. Check out our Top 5 best sewing machines in India.
1. Brother FS 101 Computerised Sewing Machine
Brother is one of the best sewing machine brands that includes a variety of functions. There are – 850 SPM sewing speed, 55 alphanumeric stitches, easy control buttons and many more. The Brother FS101 automatic sewing machine offers 55 alphanumeric stitches for sealing along with 8 types of buttonholes that make stitching and sewing easier for you. This machine has includes a stop/start buttons for convenient to use and a stress-free speed regulator. Furthermore, its innovative digital dial and LCD screen for clearly visible display when you operate a sewing machine. All over the good product but one limitation i.e does not provide home demo or service to its consumers. So, it provides a Demo CD with its sewing machine kit.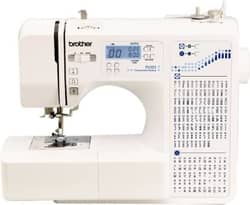 Why Do We Recommend It:
Easy to learn for beginners.

100 stitch number and 55 alphanumeric stitches.

LCD Screen.

8 type buttonhole.

Package contains – 1 sewing machine unit, instruction manual, paddle and Demo CD.
PRODUCT INFORMATION:
Brand

Brother

Model

FS101

Built-In Stitches

100

Sewing Speed

850 SPM

Weight

6 kg
2. Usha Janome Wonder Automatic Sewing Machine
Usha is a popular sewing machine brand in India. The brilliant product comes with the latest technology will expand your stitching experience. This is a free arm machine which comforts for circular stitching. This automatic machine is equipped with good features like 21 in-built stitching patterns, 4 styles of buttonholes, needle cutter, needle threader, foot pedal and triple power which improves the accuracy of your work. Its 21 built-in stitch functions including one stretch stitching, button fixing, rolled hemming, smocking, blind stitch hemming, zip fixing and so on. The machine provides the highest 860 RPM motor speed for speedily finishing the work. This machine is suggested for experienced persons.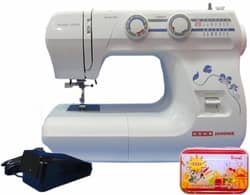 Why Do We Recommend It:
This machine is lightweight with a carrying handle.

Ideal for experienced persons.

860 SPM motor speed.

Free arm for circular stitching.

Do not provide any demo at your home.

Fully Automatic sewing machine.
PRODUCT INFORMATION:
Brand

Usha

Model

Janome Wonder Stitch

Color

White

Styles of Buttonholes

4

Material

Steel

Weight

8 kg

Warranty

2 Year
3. Singer 8280 Sewing Machine
The singer is an international brand that wants to get creative with needles. This Singer brand will make an automatic sewing machine for home uses. The performs best embroidery artwork at home very faster and convenient. This sewing machine comes with 7 stitches style built into it 4 step buttonhole foot function is creative and automatic. It provides 24 stitch style function with a maximum width of 5 mm that ensures a try out new designs, creative new ideas, and wonderful stitch, all the convenience at your home. Any difficult type stitch makes easy of this machine such as collars, hems of trousers, cuffs, skirts and more.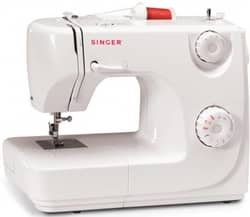 Why Do We Recommend It:
Filtration speed is quite quick.

4 step buttonhole, 21 built-in functions.

Adjustable stitch length and width.

Built-in light attachment.

Made of the sturdy metal body.

Changing presser feet in seconds.

It comes with a 2 year warranty period.
PRODUCT INFORMATION:
Brand

Singer

Model

FM 8280

Sewing Speed

800 SPM

Colour

White

Bobbin Winder

Yes

Weight

7 kg

Warranty

2 Year
4. Usha Janome Dream Automatic Zig-Zag Sewing Machine
The Usha Janome Dream stitch automatic sewing machine is perfect for home uses. This electric compact size appliance easy to move another place effortlessly. This is good for both beginners and professional tailor. It involves 4-step button holing features that allow you to fix the buttons on the pants, coats, kurta, shirts or any dress immediately. It has crafted with totally seven various stitch patterns including- button holding, cording, lace fixing, picot, mending, quilting, button fixing and embroidery. All the applications are work very well and to make sewing simple. This free-arm model able to make straight, zig-zag, overlock, and tricot stitches.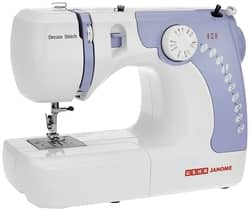 Why Do We Recommend It:
Affordable price range.

Great motor speed.

Small size to easy to movable.

The little bit noisy.

It comes with 7 in-built stitch functions.

The sewing speed is around 550 SPM.

No demo service available for your home.
PRODUCT INFORMATION:
Brand

Usha

Model

Dream Stitch

Number of Buttonhole

4

Bed Type

Free Arm

Weight

6.54 kg

Warranty

2 Year
5. Singer Promise 1408 Sewing Machine
A singer is the legendary American brand that produces sewing machine by amazing features with the lowest price. The multipurpose sewing machine ideal for beginners and professionals. A lamp has been arranged above the stitch direction that helps to properly visible in dark fabrics or sewing in dim lighting conditions. With the help of its foot pedals, do not need to stress your arm to turn the sewing the machine. The front-load bobbin case save your time to hassle of putting the bobbin in the traditional way. Furthermore, Its foot lifter able to adding sarees borders or stitching layers of fabric very clearly.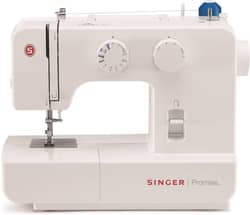 Why Do We Recommend It:
The front-load bobbin case is present on this machine.

Electric foot presser.

Large and small spool caps.

Automatic 4-step buttonhole.

Extra-high presser foot lifter for bulky fabric.

Video CD come with them which explains the how to operate the sewing machine.
PRODUCT INFORMATION:
Brand

Singer

Model

FM Promise 1409

Sewing Speed

700 SPM

Number of Stitches

9

Weight

5.85 kg

Warranty

2 Year
Personal Recommendation All sewing machines are well branded and construct with good functionality. We found this product Amazon best review and product features. Some customer still confuses to choose one out of five. My personal suggestion kills your worries.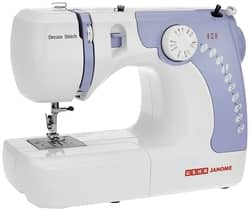 The Usha Janome Dream stitch is the best sewing machine in India. It all remove the worry about your stitching work. So, don't west your worthy time. Buy it.
Frequently Asked Questions About Sewing Machine.
Which sewing machine is best for home use? Usha Janome Dream stitch is the best sewing machine for the home user. Which is the best sewing machine brand in India? Usha is one of the populer and one of the best sewing machine brand. How much does a sewing machine cost in India? Minimum- 6000 and maximum- 20,000 If you are thinking to buy a sewing machine, this is a decision that you should take a lot of thinking. A low-quality machine will only cause problems if it stops working when you are working on an essential project. Therefore, it's important that you consider many things when buying in a new sewing machine.
Here Are Some Best Sewing Machine Brands
It is hard to find famous sewing machine brands, which are renowned for their quality and craftsmanship. Usha, Brother, Bernina, Singer, and Janome are among the famous in the industry. Before you buy the sewing machine, check out different sewing machines available. Search and read all details that compare different brands and types to know which are the most suggested by the consumer research services. Check out all the models, don't be pushed into purchasing an expensive machine. The expensive isn't always the best machine. Determine what you need a sewing machine for and the things you are going to sew first. To find out more about the different machines head to these guidelines for Sewing machine types.
Which Type Of Sewing Machine Is Right For You?
Mechanical Sewing Machines
If you're just starting out or only intend to sew rarely, a Mechanical sewing machine will probably suit your needs. It is very appropriate for occasional use on light to medium weight fabrics.
Electronic Sewing Machines
If you sew regularly or can spend more, an electronic model can be the perfect purchasing. An electronic sewing machine has features of touchpad controls, a variety of presser foot for challenges like piping and topstitching, and settings options for many or even hundreds of stitch types. These shift many tedious sewing projects from your hands to computer chips.
Embroidery/Sewing Machines
This model combines sewing and embroidery features into one unit. For example- all of the features and options found in an Embroidery iconic machine, you'll also have the facility to make embroidery for tasks such as garments, bedspreads, and pillowcases.
Some Important Features To Look For
First of all, you should opt for a machine based on the type of tasks you work on. Although most of these can sew well, make sure you consider some primary but essential Features. For example, you can find some that have quilts features or stretch stitches. Another thing that you may want to keep in mind is the availability of accessories. look for included accessories- Presser feet attachments, lint cleaning brushes, and the right machine oil can help you get the work done correctly. If you can find the same machine with accessories for the same price, get that one.
This is the main stitching area under the presser foot and needle. It is made up of a free arm and extension table. The free arm is the extending arm left once the extension table is removed. It is ideal for sewing small or tubular items such as sleeves and trousers. The extension table is useful for sewing large items like curtains.
A bobbin is inserted into a bobbin case which is placed into the hole normally located under the needle plate. This is a small metal spool for holding the lower thread – two threads are needed to make a stitch. This thread will form the bottom stitch.
The feed dog is a plate with the serrated teeth, which protrude up through the holes in the needle plate. It is used for thick fabric that you want to push through yourself, or when doing complex stitches.
The needle plate fits in the sewing bed covering the feed dog and bobbin holder. It has a hole for the needle to pass through and ruler markings to aid you to stitch equally and in a straight line.
These are the hooks at the top of the machine, which hold the reels of thread that form the top stitch. Useful to have two for sewing with two threads at once.
It allows you to select stitch form with width and length. These can be pre-set. In computerised sewing machines offer touchpad selection.
This makes two similar series of sewing for a stronger seam, or if you want to use two colours of thread.
This protects the thread at the starting and end of sewing to prevent it from unravelling.
This feature enables one to adjust the pressure exerted on the fabric by the presser foot. This keeps the material safely under the needle and against the feed dog. Different formed feet are available for different tasks, such as buttonholes, inserting zips and hems.
Things One Should Watch Out For –
Test the Sewing Machine
Look for sales and try before you buy that what does it includes, and what does it exclude. Take some fabric and thread with you to check how a machine stitches the fabric. How well it works with the fabric and thread you used? Does it do all that you need it to? Check the quality of the buttonhole.
Check Repair Policies
Many dealers offer instore service. If not, then send your machine to a repair centre or to the manufacturer. No matter who does the repairs, ask about turnaround time, which can vary from days to weeks. Keep in mind that repairs made by technicians who are not factory-certified can void the company's warranty. And keep your machine's box and packaging, in case it needs to be shipped for repairs. Consider The Price High-end and advanced models are obviously expensive, but these are worth your money. Sewing machines made with plastic less in price; although this machine may not offer durability and sewing precision with the passage of time. Stay away with the cheap unbranded machines, they do not last long and give a lot of headaches during stitching. If you are looking for the best sewing machine in India, the article suggests that you keep the guidelines given in this in mind. This will help you make the best decision.