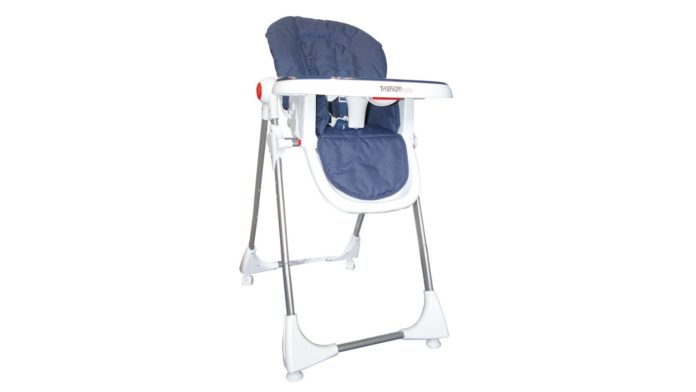 Hey Guys, Looking for a best baby high chair in India? Well, Baby high/feeding chair need when your little one starting to sit up and eating a meal.
What is High Chair?
A high chair is one type of chair that furnished for 6 months to younger toddlers kids which converts into various steps.
This is a trendy product in the market. With this chair sit your baby comfortably and train for good dining habits. Also, convertible to study table & chair. In short, this is a multipurpose product -making it worth the money.
So, if you're planning to buy and confuse to choose best then our shortlist will help you to find a best baby high chair in India.
Best Baby Feeding Chairs In India – Reviews
1. R for Rabbit Marshmallow High Chair for Baby – Feeding Chair
Our first product is from Marshmallow. This decent quality high chair is certified by European Standards for safety. The 7-level height adjustable chair use in study chair, feeding, rest and eating so, you can adjust as per your requirement.
The smart high chair furnished with foldable features that can be stored in a limited space. Also, equipped with a removable meals tray with 3 plus point like a washable seat cushion, easy to clean and use a hygiene fabric.
It looks pretty in your home. This chair has 3 different recline angles that allow your kid to sit perfectly for reading a story, resting or any other work. Mostly, Baby is very much enjoying with this hair.
This high chair weight is 6 kg which suitable for babies aged 6 months and toddlers.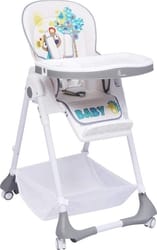 Why Do We Recommend This:
European Standard EN 14988 certified.
Removable double meal tray with 3 positions.
Set in seven type height to grow your child.
Adjustable footrest for maximum comfort.
3 Recline modes with point harness.
PRODUCT INFORMATION:
Brand

R for Rabbit

Colour

White

Supported Weight

20 kg

Height

55 cm

Price

Rs.6,795/-
2. LuvLap 3 in 1 Convertible Baby High Chair
If you're looking for something new and good then this 3 in 1 high chair is the best option for you. It uses a BPA free and strong material for your baby safety concern.
The multi-purpose high chair can be used as a baby chair, dining table, study table and car seat while all parts are easy to removable and assemble.
Its anti-slip leg base and Anti-tipping design ensure utmost security with maintaining the baby balance. It features a comfortable backrest design means your baby feel comfortable on feeding or high chair.
The chair comes with a 5-point harness safety system to ensure that your child is seated safely on the chair.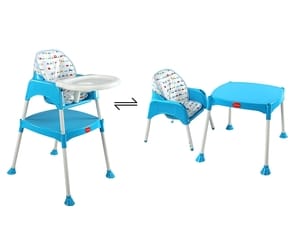 Why Do We Recommend This:
BPA free plastic material.
5-point safety harness system.
Transparent food tray cover for easy cleaning.
The seat cushion can be washed easily.
Washable seat cushion for maximum health cleanliness.
PRODUCT INFORMATION:
Brand

LuvLap

Colour

Blue

Supported Weight

18 Kg

Ideal Age

Above 6 Months

Weight

5 Kg

Price

Rs.4,149/-
3. R for Rabbit Cherry Berry High Chair for Baby/Kids
The versatile high chair adjusts your growing baby's seating needs can be converted into a chair, table, short chair and booster chair. An absolutely 4-in-1 premium quality chair could be a convenient option for your little one safety matter.
This high chair is certified as per European Standard EN 14988 which makes it most safe for your little baby. Its dining tray design with cup holder and its cleaned after every meal.
Non-slip and anti-tipping design maximum support 20 kg weight and the ideal for to average 6 months to appx. 7-year baby.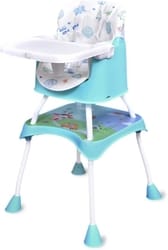 Why Do We Recommend This:
Washable fabric.
Removable food tray, Non-slip legs.
Attractive cartoon design on the table.
Suitable 6 months to 7 years old kids.
Soft cushion material that is washable.
Safety harness grip is perfect for security.
PRODUCT INFORMATION:
Brand

R for Rabbit

Colour

Green

Supported Weight

20 Kg

Ideal for

6 Month-7 Years

Product Weight

5.6 kg

Price

Rs.3,996/-
4. LuvLap Sunshine Baby Highchair
The compact and handy high chair use in the multipurpose activity. The Luvlap convertible high chair has a fixed with five-point safety harness which makes it absolutely safe to your baby.
You can adjust its heights according to your needs. It has a suitable baby aged 6 months and older.
Available in 3 colours-Red, Yellow, Green. Besides, it gives a footrest section of this high chair for baby's comfort. Its foldable design which makes it easy to store in little space.
The attached a tray that is designed to place the plate and tumblers while feeding your baby.
Why Do We Recommend This:
Easy to clean.
Safety belt, Footrest try.
Foldable design for easy to store.
Extra-wide foldable meal tray.
Attachable feeding and drinking tray.
PRODUCT INFORMATION:
Brand

LuvLap

Colour

Multicolour

Foldable

Yes

Age Group

6 – 36 Months

Height

16.8 inch

Price

Rs.2,639/-
5. Kurtzy Kids Portable Highchair
This is a decent quality high chair made from durable material which keeps your baby safe and secure everytime. The high chair has smooth surfaces to prevent food from getting stuck. It has an extra feeding tray that can be is easy to clean and safe after wash.
Mostly, its table lock cannot be opened by the toddler so, no worry about that.
This high chair is suitable for those babies who can sit up on their own aged 6 months and older. The foldable chair easily store at any corner in your house.
Its attractive feature is that the made from aluminium which support a maximum 50 kg of weight.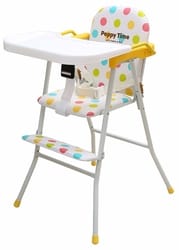 Why Do We Recommend This:
Dual safety harness with safety lock.
Large dining tray.
Comfortable and foldable footrest.
Equipped with a compact design to stay in the smallest space.
Adjustable sitting cushion.
Supported weight- 1 to 50 Kg.
PRODUCT INFORMATION:
Brand

Kurtzy

Colour

White

Age

6 to 72 Months

Foot Rest

Yes

Product Weight

4.2 Kg

Price

Rs.2,799/-
Best High Chair Brands
♥ R for Rabbit
♥ LuvLap
♥ Kurtzy
♥ Fisher
♥ Tiffy and Toffee
All five are best in the bay toys but we always trust on Luvalap and R for Rabbit brands.LuvLap 3 in 1 Convertible Baby High Chair is our top pick from the list of the best baby high chair in India. The certified as per European Standard EN 14988. It furnished with durable material for your baby safety.
Things to Look For When Choosing high chair for your little one?
High chair furnished with a variety of features and size. All the product features are different when you can go to buy a high chair to look at some point:
Metal or Plastic Frame Highchair
The high chair made of metal or plastic in that plastic is more popular as compared to the metal frame. Most of prefer a plastic- the main reason that is lightweight, inexpensive and portable.
Strong adjustable chair straps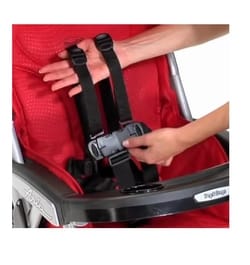 Always select a solid strap for your baby safety concern. 5 point harness or 3 point harness post to prevent your babies. The belt material should be needs to adjustable and flexible.
They can get out of without bind belts so, you can strapping in your babies correctly to prevent injuries with the help of safety belts.
Comfort
In addition to having padded seats, sturdy footrest and reclining back seat which offering them extra comfort while using a high chair. If you buy for your older kids then without a booster seat can be a good option.
Foldable and Portable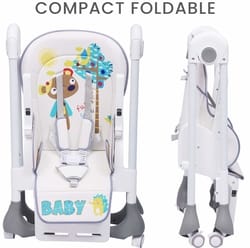 Always choose a foldable chair because of two reasons. First, If the chair fordable the take a little space and anywhere fitted into the home. Secondly, the high chair is very lightweight so, easy to portable whenever you go.
Dining Tray
Of course, You choosing a high comes with a meal tray. Dining tray tries to train your kid take a meal for good dining habits. It is at all times select hygiene material. All kids are trying to take a fallen food in the mouth. It's not good for health if a tray is not good.
Rather than take the chance and choose a hygiene and easy to clean material. Therefore, clean the meal easily from the dining tray.