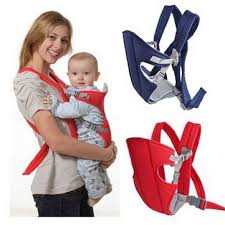 All new parent trying to carrying your little munchkin all time much carefully. Everybody wants to spend more and more time with her little one. If you are spending quality time with your baby without compromising on work, then you need to buy the best baby carrier. Enjoy the benefits of parenthood, with this baby carrier you can hugs your baby securely in your daily life. Since you are a new parent, no any idea about how to carry a baby long time, then baby carrier better offers to your baby that keeps most care, support, safety, and protection to your baby.
Our Top Picks
Its ergonomic design for both parent and child gives you the freedom and keep your baby close and safe. Also, the hands-free allowing you can do other work.
If you don't know much about the baby carrier? Don't worry, We have a detailed article on the best baby carrier in India with price list and reviews.
Best Baby Carriers in India to Buy Online– Price list & Reviews
1. Infantino 4-In-1 Convertible Carrier
Infantino has been recognized as one of the most reputable brands for baby products in several categories. Its 4-In-1 convertible carrier unisex convertible seat with unique which make it ideal for kids weighing up to around 20 kg. This is a machine washable.
It has a padded strap which assuring total security and comfort of the baby. This equipped with advance four different carrying options depending on the size of the baby such as facing in-narrow seat, facing in-wide seat, facing out, and back carry.
Additional useful features include a handy wonder cover bibs to protect your clothing and carrier from your baby's drool.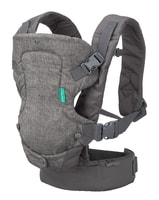 Key Features:
Four different way to carry.
Soft-structured carrier.
Easy to wash with Machine washable.
It is a lightweight to easy to carry while traveling.
Compact size with the unisex convertible seat.
Adjustable padded straps for long-term wearability.
2. LuvLap Elegant Baby Carrier
This Elegant Baby Carrier from LuvLap brand which certified as per European Standard EN 13209, available in a bunch of different colors.
It has 3 adjustable belts in that 2 wide shoulder straps and one waist belt for superior sturdy lumbar support. That's not all, that are made up of a breathable fabric mesh.
The main advantage of a comfortable cushioned with an armhole for the baby's comfort. The pocket located at the front of the carrier that enables you to keep the necessary stuff.
The cushioned leg opening on both sides has added cushion interior for the baby's maximum comfort. It can be used up to 15 kg of babies weight.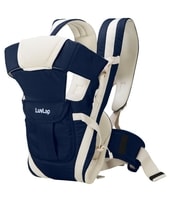 Key Features:
Breathable mesh fabric lining.
Superior lumber supports with an elegant design.

Front pocket to carry essentials items.

Two adjustable & breathable wide shoulder straps.

Cushioned arm and leg holes for the baby's comfort.

It has 4 different carrying positions supports up to 15 kg.
3. R For Rabbit New Cuddle Snuggle
The soft structured carrier from R for Rabbit is suitable for up to 2-year-old baby. The good quality product provides comfort and safety to your baby and kept to near your heart.
This is a safety one certify carrier defined by European Standards. It carries position is 3 different ways- front carries with face in, front carry with face out and back carry.
It's wearing comfortable, not only for the parent but also for the baby. The added a headrest and breathable fabric that babies ride make comfortable.
Besides, the provides soft and mesh breathable fabric ventilation for comfort your little one with making her ride cool and enjoyable. Mostly, its a machine washable.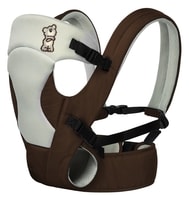 Key Features:
Breathable 3 D mesh fabric.
Innovative design with easily washable.
Lightweight, easily portable and comfortable.
Wide padded shoulder and lumbar straps.
Ideal for babies from 0 to 2 year age group.
Great color combination, Soft-touch design.
4. Chinmay Kids Baby Carrier
Cinmay kids baby carrier currently our #1 bestselling and cheapest baby carrier on our list. The perfect solution for those who looking high-quality, durable material, comfort and safety carrier for baby in low range.
The budget-friendly design made of polycotton and which have an option to carry your baby in 4 types like a cradle, front facing in, front facing out, and back carries. This carrier is very convenient as it is machine washable.
Additionally, cooling and breathable ventilation that helps control airflow. Made of long-lasting soft and durable cotton that is safe from outside.
The baby carrier can be used from an age of 0 to 30-month old baby up to a weight of 12 kg.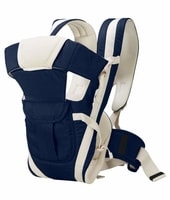 Key Features:
4 carrying positions – cradle, front, back & hip.
Double protection safety buckle, Safe design.
A breathable and gentle cooling pad for baby's smooth skin.
Made of premium quality fabrics that are safe for baby.
Adjustable shoulders straps which comfortable fit for all body types.
5. Bey Bee 3 Way Baby Carrier
Next good quality product from Bey Bee. It comes with 3 carry positions such as inward-facing, outward-facing and outward-facing seat style. It's navy blue with cream color look gorgeous. Bey Bee carrier offers to safety your baby.
The made of premium quality breathable fabrics which ensure your baby's comfort. The small, lightweight and the unique design is an ideal pick for traveling with your little one. It furnished with removable and adjustable hardboard support with air holes which completely protect and support your baby's head and back.
Its a complete bind with safety and enrichment feature. Its front pocket design accessible to kept your worthy item in that.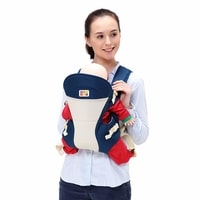 Key Features:
Machine washable fabric.
Adjustable seat positions.

Front pocket to carry essentials.

Extra cushioning in adjustable shoulder straps.
Used fabric tested for safety, sturdiness, and comfort.
You May Like to Read => Best Exercise Cycle Under 5000 In India 2019
Benefits of choosing the best baby carrier
The benefit of having a baby carrier makes the selection of whether you should own one simple enough. Once you have selected to buy one it is a wise decision to learn about the key features that will help determine the best carrier for you. Nowadays there are a lot of different types of providers on the market like the front carriers, kid slings, back carriers, baby pouches and wrap carriers and this can decide a little overwhelming. A key place to start is to figure out what is the main objective you want the carrier for and how and when are you going to use it.
Safety and Security of the Baby
Be sure to select the best baby carrier in India according to kids size and age. These days, most producers are declaring that their products are safe. This may be true, but we are discussing kids protection so it is best to examine out any remembers before you consider any further. If there are none, ensure that the carrier doesn't have any damaged or ripped joints. Also, examine that it is the right dimension for your baby to avoid the kid from dropping through or from being choked. If the carrier has buckled, ensure that buckles perform effectively and they are protected. Also see if the carrier can handle and bring the load of your baby or it might break, thus risking your baby. In short, ensure that you follow the company's specific recommendations and specifications. If they suggest a weight restrict or recommend an age to start using your carrier from, it is best to stick to these, regardless of whether they may seem nonsensical to you.
Do you want to bring your baby as much as possible and want it close to your heart even while you are working? Then a flexible kid carrier that develops with your kids and can be used by different carriers will be your best value for money. The Best baby carrier in India is an excellent option we have found that satisfies these specifications. It can be used different ways for the front side, back again and side holding, it can be adjusted so your spouse can use it also, has wide ties and has excellent hip support so you can have your kids for a longer period and as they grow bigger. An infant insert allows you to use the ergo kid carrier when your kids is a baby, which can then be eliminated for an older very young baby. If you want to wear your baby as often as possible, you should consider comfort and ease of use as the most main reasons. Those looking to bring their kid as much as possible will also need to work, do household tasks or look after another baby, so a carrier that allows comfortable and protected holding of your baby on the rear again is a key factor to look for.
Some people have a particular design in mind when choosing a carrier. Have a look at the different styles on offer as they do differ while one baby carrier may be unpleasant, don't be put off as there is limited to be one style out there that will fit your needs.
You May Like to Read:
Top 5 Best baby car seat In India 2023
Top 5 Best Baby Walker in India 2023