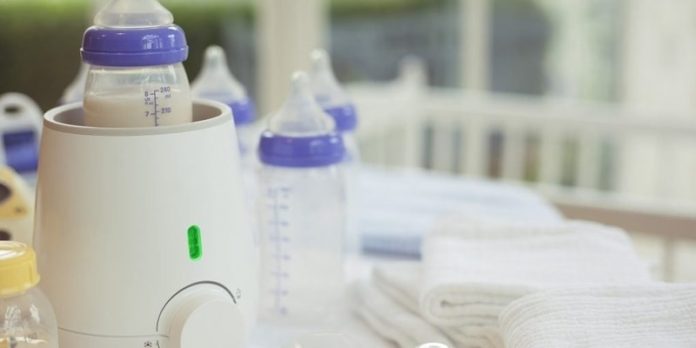 "Nothing much important than newborn baby health and safety". Cleaning, Scrubbing, washing, and sterilizing the feeding bottles of the baby is a never-ending task of a mother. The electric baby bottle sterilizer is the best option reduces a mothers work.
Our Top Picks 2023
Best Electric Steam(Baby Bottle) Sterilizers in India
Sterilization is a procedure of remove, kills or deactivates all forms of microorganisms, viruses and their spores. Mostly, steam sterilizers kill 99.9% germs. Don't take any risk concerning your baby health. We understand your concern and suggest a five best baby bottle sterilizer in India. The baby bottle sterilizers are work efficiently.
Philips Avent 3-In-1 Electric Steam Sterilizer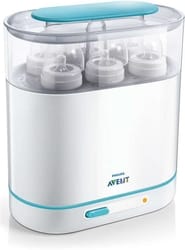 Here our first choice of the sterilizer is Philips Avent 3-in-1 Electric Steam Sterilizer. The unique design of this sterilizer takes 6 minutes time to completely sterilize baby bottles. In the sterilizer wide and narrow neck bottle both are perfectly arranged as well as breast pumps and other baby accessories perfectly adjust. Also, fitted with BPA Free materials kills up to 99.9 percent of harmful household germs. This Avent 3-in-1 sterilizer can hold up to six 330ml.
Why Do We Recommend It:
Less energy consumption.
Made of BPA-free material.
It kills 99.9 % of harmful germs.
Flexible, easy loading, compact design.
6-minute cycle with automatic shut-off for extra safety.
3-in-1 design means hold 6 bottles, breast pumps & other baby accessories.
PRODUCT INFORMATION:
Brand

Philips Avent

Material

Polypropylene

Power

220 V

Sterilizing Time

6 min

Weight

1.5 Kg

Warranty

2 Years
The baby's feeding equipment is remain sterilized as long as 24 hours if kept the lids perfectly closed. Its 3 different arrangements give you the choice to sterilize small, medium and large size bottles.
Philips Avent 2-in-1 Electric Steam Steriliser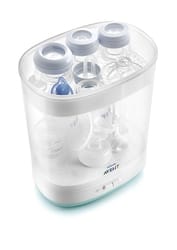 It is compact looking 2 in 1 electric steam sterilizer is the good choice for your baby's health concern. In the sterilizer, you can keep the baby bottle, breast pump, nipples, bottle lids, teethers, small toys and more. This is a modular steam sterilizer that capable to access up to 5 Philips Avent baby bottles at once.
Why Do We Recommend It:
Easy to use and clean.
Helps to prevent bacteria & viral infection.
2-in-1 electric steam sterilizer.
Offers to sterilization for all your baby's feeding accessories.
This sterilizer is made from BPA free materials.
PRODUCT INFORMATION:
Brand

Philips Avent

Type

Electric Sterilizer & Warmer

Design

Space saving

Height

30.5 mm

Weight

1.7 kg

Warranty

2 Years
Its compact space saving design makes it easy to take with while traveling. Also, different sizes of the bottle can fit in it such as wide neck and standard neck both. Approximately 10 minutes sterilizing cycle and after the automatic shut-off. These special features invent for mom, because of a lot of daily chores of a mother that condition his normally forget to the turnoff.
Chicco Sterilizer 3 in 1d.
The energy saving 3 in 1 sterilizer effectively kills 99.9 percent of harmful germs. The best thing about Chicco electric sterilizers is continuously 24 hours protect if the lid is unopened. You can decide and arrange out of 3 different full sizes of sterilizing arrangements that are, compact and microwave to adjust the size of the sterilizer which requires being items to be sterilized
Why Do We Recommend It:
Different types of sterilizer method.
Full size fits up to 6 feeding bottles.
Sterilises in just 5 minutes of excluded warming time.
It kills the harmful germs at 99.99%.
The 24-hour protection if the lid is closed as far as the object of disinfecting.
PRODUCT INFORMATION:
Brand

Chicco

Material

Glass

BPA Free

Yes

Power

120 W

Sterilizing Time

5 min

Weight

1.9 kg

Warranty

1 Year
If you can use a microwave mode then you can sterilize/sanitize even faster. Another big benefit of this product is its automatic shutoff feature.
Pigeon 6 Bottle Steam Sterilizer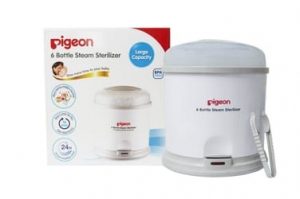 A top-quality compact baby bottle sterilizer from Pigeon. This automatic steam sterilizer at a time you can sterilize six bottles, accessories, breastfeeding pump, toys and more. Its tough durable design ensures the steam sterilizer can be suited for daily use and used for a long time.
Why Do We Recommend It:
User-friendly.

Heat resistant safely handle.

Its compact design required a minimal space.
Made of Polypropylene & Stainless Steel.
Crafted by tough & durable design.
Simple one button operation.
PRODUCT INFORMATION:
Brand

Pigeon

BPA Free

Yes

Sizes of Bottle

6 Bottles

Weight

1.47 Kg
The sterilization cycle lasts about 16 minutes and then automatically switches off when the sterilizing cycle is complete. It can be used in natural cleaning methods.
Trumom Electric Steam Sterilizer for 6 Bottles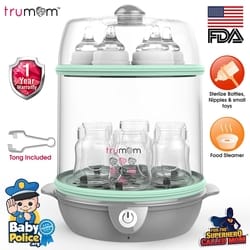 The Trumom is a well-known brand in baby bottle steam or electric sterilizers. This can be convenient to stay for 6 bottles and capable of killing almost 100% germs and bacteria. The electric steam sterilizer crafted out of non-toxic BPA free plastic for your baby safety concern.
Why Do We Recommend It:
Automatically shuts down features while completion of a cycle.
Made of 100% non-toxic BPA-free plastic for maximum safety.
Includes 1-year warranty on the product.
You can fit all sizes 6 bottles at a time.
Food Steamer.
Dishwasher safe.
PRODUCT INFORMATION:
Brand

Trumom

Power

220 W

Design

Modular

Timer

Yes

Weight

621 g

Warranty

1 Year
It covers a 1-year motor warranty after purchasing date and time.
Personal Recommendation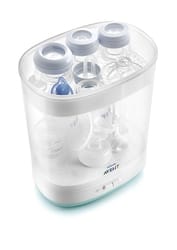 This product is a little bit costly but our tiny baby related health not take any risk. Baby health is most important for us. Many people confuse to choose the best, then we recommend one. The sterilizer is very simple to operate and has really mom life made very easier.
How To Choose Best Baby Bottle Sterilizer In India
Breastfeeding mothers don't have to think about is keeping their milk clean and germ-free. But bottle feeding mothers don't have this facility. There may be many reasons why you may opt to bottle. If you've made a decision to bottle feed your child then you must first buy the appropriate equipment. Hygiene is paramount when bottle feeding your baby. First on your list should be an adequate best baby bottle sterilizer.
There are several types of baby bottle sterilizer choices based on your preferences. The best baby bottle sterilizers with every of the sterilizer variety so you know that you're getting the top product for you and your baby.
What Can Happen if Bottles Are Not Sterilized?
Babies are vulnerable to germs that may cause vomiting and diarrhea. These germs can easily grow in milk, making baby exposed to diseases. Teats and bottles have crannies and spaces that may allow milk to build up. The best way to make sure that your baby's bottles are free from harmful bacteria is by using one of the best baby bottle sterilizers.
Sterilizing Baby Bottles With Electric Steamers
Washing the baby bottles is a way of cleaning them, while an electric steamer works on the principle of using hot steam to kill germs in the bottles. When putting bottles and nipples in electric sterilizers, be sure that the openings are facing downward. This will allow the steam to sterilize your feeding gear as efficiently as possible. The product will remain sterile for close to 24 hours with the lid being closed.
Electric sterilizers come in many different shapes and sizes. Some sterilizers sanitize a few baby bottles at a time while others will allow you to sterilize baby bottles in bulk. Consider how many baby bottles you need to sanitize before going to buy it.
Sterilizing Baby Bottles in the Microwave
The affordable option available is to buy a bottle sterilizer that works by placing it in a microwave. These work on the same concept as the electrical ones and use high heat steam destroy bacteria. This is the easiest method to sterilize baby bottles in the microwave is to use a microwave steam sterilizer. A steam sterilizer is actually a large package designed to fit your baby bottles.
Before you start, you need to ensure that your microwave is clean. All you have to do is place your bottles in a microwavable container, add water and set it in the microwave for the specified time. Steaming your bottles, nipples, and caps until sanitized.
Sterilize Baby Bottles with UV Light
These sterilizers are the latest and use ultraviolet light to get rid of germs and bacteria. The technology has only recently started to appear on baby products.
These are the most portable, small, lightweight, generally, sterilize in under three minutes and making it perfect for traveling, especially useful for taking on long car trips where you might not otherwise have a sterilizing option available. However, this may need you to disassemble the bottle and sterilize every piece independently.
What To Look For In the best Baby Bottle Sterilizer?
Looking for the best baby bottle sterilizer may be difficult as you would experience hundreds or thousands of them in the market. To help you choose the right Sterilizer for cleaning your baby's bottle, Read below some factors that you may want to consider.
The Best Bottle Sterilizers Features
Easy to Clean
You probably might not like to take more time to wash your baby bottle sterilizer. Select one that is not hard and won't take up your patience for work. In this inclusion, thanks to the manufacturers because most of the sterilizers don't need a lot of time to clean.
Portability
If you often travel, you would want a sterilizer that is both affordable, smaller in size and light for easy portability.
Compact In Size
This is really a good point to consider. Moreover, an ideal bottle sterilizer should be compact in design to take up only a small amount of counter space. At the same time, it also should be spacious enough to fit all sizes of baby bottles. When you buy, The check is it good to handle the tall as well as wide bottles on the market.
Versatile
You should be able to use your sterilizer not only in the beginning months but for a long period. You would want the sterilizer to be big enough to support your baby's bottles, spoons, cups, and bowls as well.
Drying feature
Some baby bottle sterilizers come with a drying feature. While microwave sterilizers work fast, the bottles are left wet. Parents will have to dry them after it removed from the microwave, which adds another step to your job. Hence, consider this when choosing the best baby bottle sterilizer.
How Long Should You Use A Sterilizer?
It is recommended to continue sterilizing your baby's bottles until your baby is at least one year old. It is also perfect to sterilize feeding scoops that come with formula milk alongside the baby bottles. Once your baby reaches six months old and has started eating solids, you may try to encourage him/her to use a beaker or cup for milk. These are easier to clean and do not have to be sterilized.
You can just wash these in clean, soapy, hot water, along with your baby's spoon, plates, and bowls. Dry your baby's things with a clean towel. Compared with milk, bacteria do not easily grow in solid food.
Bottle feeding will provide your child with all the nutrients it needs. If your baby is totally dependent on the insides of the feeding bottle. There are some necessary measures you need to take in ensuring that your baby is kept from acquiring diseases. Keep in mind that sterile is different from clean. Using baby bottle sterilizer is a method that will allow the bottles to be sterile. By following the guidelines above, you can definitely choose the best Baby Bottle Sterilizer In India.
You May Like to Read:
5 Best Baby High / Feeding Chair in India 2023
10 Best Baby Feeding Bottles In India