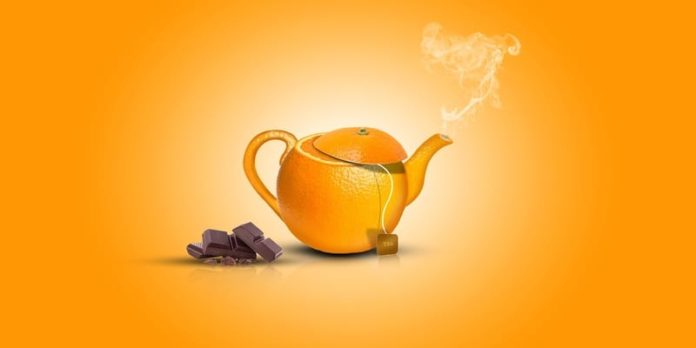 The market is filled with quite a lot of electric kettles. Some electric kettles are pretty expensive, and some of them are quite cheap. Even each of the electric kettle is offering some different features. Hence it is so obvious to have this question that which is the best electric kettles in India? We list down here India's top 5 Best Electric Kettles For home and office use.
Our Top Picks 2023
1. Philips HD9303/02 1.2 L Electric Kettle

.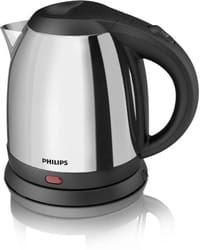 Philips electric kettle is one of the smartest appliance made to prepare soup, tea or coffee for your friends and you. The capacity of the electric kettle is 1.2 litres that capable serve more than two cups of tea. Its sleek look modern design suit to your office and home. The top of the lid mouth opening is wide so you can easily fill water and clean also.
Why we suggest this
Wide opening cap for easy cascade and cleaning.

Steam sensor, dry boiling.
Ideal for heating water to make tea or coffee.
It has 0.75 m cord length.
Durable and shiny finish.
Its power supply ranges between 220 – 240 v.
PRODUCT INFORMATION:
Model

HD-9303/02

Capacity

1.2 L

Power

1800 W

Weight

800 g

Warranty

2 Year
Advance technology kettle helps to boil water rapidly. It has 1800 watts of power helps in make brewing system is faster and furnish with durable stainless steel metal. One of more is its 360-degree cordless pirouette base for mix very well
2. Morphy Richards InstaCook 1 L Electric Kettle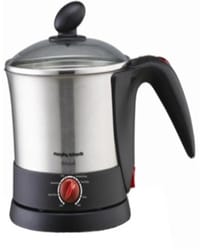 The Instacook launch with latest features such as do not make only tea or coffee but you can cook instant Maggi/noodle/pasta and even hot beverages with precise temperature. Other smart features cover like automatic cut-off for dry heating, temperature control, ergonomic handle, stylish glass lid etc.
Why we suggest this
It uses a power consumption of 1200 watts.
Automatically cuts off features.
Detachable cord.
Made of metal.
Cool touch handle and lid.
It operates without a cord.
PRODUCT INFORMATION:
Model

Insta Cook

Power

1200 W

Capacity

1 L

Weight

1.72 Kg

Warranty

2 Year
Its glass lid for the properly visible inside the processor. A 360-degree swivel and its stainless steel body allow sturdy and rough usage of the electric kettle without any damage.
3. Bajaj Majesty KTX 15 1.7 L Electric Kettle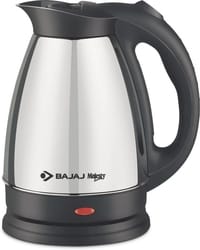 The aesthetic model ideal for travelling and home uses. Having a black joint locking lid look stylish base add to the beauty of the modern kitchen. The 1.7-litre electric kettle operates cordlessly.
Why we suggest this
1500W power consumption kettle.
Ergonomically designed with a stylish look.

Dry boil safe and overheat protection.

Auto shut off.
Has stainless steel body for long life.
PRODUCT INFORMATION:
Model

KTX 15

Indicator

Yes

Power

1500 W

capacity

1.7 L

Weight

921 g

Warranty

2 Year
It has an automatic shut off feature which helps to dry boil safe and overheat boiling the liquid prevent to protect temperature. The kettle mouth does not large do not able to keep your hand inside this product to clean.
4. Orpat OEK 8137 1.2 L Electric Kettle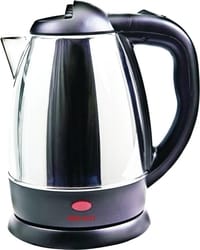 This one cooks the maximum simple dishes or boils water in your home, kitchen and hostel. The concealed heating element along with 1.2 litre capacity. The mouth of the jar is appreciable wide so that you are able to pour the drink and clean the kettle without any problem.
Why we suggest this
The cord has 360-degree swivel base.
Ergonomically handle for a strong grip.
It has a power input of 1350 watts.
Blend of the die-cast aluminium body.
Overheat safety protection.
PRODUCT INFORMATION:
Model

OEK 8137

Capacity

1.2 L

Power

1350 W

Weight

458 g

Warranty

1 Year
Being very easy to use, and its stainless steel and aluminium die cast body for extremely long life. Another important feature of this tea kettle is that it auto shutoff, indicator light and perfect lockable lid.
5. Pigeon Kessel 12173 1.2 L Electric Kettle
Pigeon Kessel performs brilliantly related to heating concealed. Made of various purposes like boil water, milk, tea, coffee, brew soup and prepare instant noodles, steam eggs, cook rice, reheat food and much more. Additionally, it has an extra wide mouth for easy wash and pouring the water inside the kettle without facing any sort of a problem. It reduces over boiling with the help of automatic cut-off dry heating function.
Why we suggest this
Temperature control.

Cool touch handle and lid knob.

360 degree swivel base for ease of use.
Used in office, home, bedroom for bed tea and boiling water.
Auto stop indicator light ensured that the contents are not overheated.
PRODUCT INFORMATION:
Model

Kessel 12173

Power

600 watts

Power Requirement

230 V

Weight

1.41 Kg

Warranty

1 Year
Personal Recommendation
We provide the five best electric kettle reviews in the. Above given all product are too good but some people are confused to choose in five. Therefore suggest to one. Now is the time to suggest a single one on the list of five.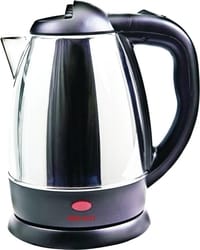 This is an Orpat OEK 8137 1.2 L Electric Kettle. The medium range product cover all features compare to high range. In today market this is a highly demanded product.
Best Electric Kettle Brand
Philips
Morphy Richards
Bajaj
Orpat
Pigeon
Electric Kettle Buying Guide
Well to help you out with this, we thought of writing an electric kettle buying guide. So you can easily get the best electric kettle for yourself while being on your budget. So let's just go ahead and have a look at all the points:
Speed:
There are so many people for whom the speed of the electric kettle matters quite a lot. So if your primary purpose behind getting an electric kettle to speed up your process of making tea and coffee. Then the electric kettle speed is undoubtedly the most critical factor for you. In the market, there are quite a lot of electric kettles which is capable of boiling the water in just three to four minutes. Even there are electric kettles which can boil water in only 90 seconds. So to know more about the speed, you have to read the product description very carefully. To understand better about this, you can also seek online reviews.
Temperature Options:
The Temperature Options is another essential factor for any electric kettle. As you already know the fact that if you brew a cup of tea on different temperatures. Then there will be a different type of tastes. So you odiously do not want to make changes in the taste of your cup of tea. Hence it is better to have a temperature option so that you can adjust the temperature according to your needs. Even if you are a tea as well as a coffee drinker. Then you also need to have the Temperature Options, as tea and coffee requires two different temperatures to prepare itself. So you can quickly switch between temperatures and get the best cup of coffee or tea.
Size:
When it comes to the size of an electronic kettle, there are two factors that you need to consider. One of them is the capacity and the other one is the counter space.
Capacity:
Talking about the capacity, well the capacity completely depends on your needs. You can ask yourself this question that how many cups of coffee or tea you make at a time? Once you have the answer you are good to go. Although, most of the electric kettles come with a good enough capacity that can hold several cups of tea. But if you are going for a portable one, then it might not offer you enough space.
Counter Space:
The other import factor is the counter space. Well, our kitchen is already filled with different cookeries, electronics and so on. And making space between them for an electric kettle is a tough job for most of us. So if you are one of such persons who does not have a huge space in her or his kitchen. Then you better have a look at the overall size of the electric kettle. Take some measurements and then make your move.
Easy to Use:
Easy to use is also an important factor for most of the buyers. Because they just don't want to crack their head up to understand how an electric kettle actually works. Although, almost all the electric kettles are easy to use. Even some brands use this feature to market their product. However when it comes to buying, well there are a few things that you need to keep in mind.
Do you Need Temperature options:
For some people, the temperature option is an important factor. Because if you brew a coffee at different temperatures, then it will taste different. So if you are a hardcore coffee lover, then you might not like a compromise with your taste. But at the same time if you choose to get temperature options. Then there will be some extra settings that you need to understand.
Automatic On-Off Switch:
There are many electric kettles that come with automatic on-off switch function. This feature can turn off the electric kettle when the water is boiled. However, this would also certainly make the electric kettle handling quite tough.
Durability:
The next thing that you need to consider is durability. For any type of electric kettle, the durability matters quite a lot. Nobody purchases an electric kettle just to use it for a couple of months or year. All they want is to use the electric kettle for an as long period as they can. So you better go for an electric kettle that offers great durability. In this case, you can choose an expensive product. Because the fact is that expensive products offer value for money materials. Also while choosing an Electric kettle there are a couple of questions that you need to ask yourself:
Steal or Plastic?
Do you like steel or plastic? Ask yourself this question. If you are looking for an electric kettle that offers durability. Then going for an electric kettle made of steel would be a great idea. But the issue with the steal kettles is that they got easier, and you may burn your fingers. Plus they cost quite extra compared to the plastic ones. But in case if you are choosing a plastic electric kettle. Then you have to compromise on the durability. But they will be safe to use.
Warranty:
The best part of the warranty is relaxation, like if something goes wrong with the product. The company will stand by it. Although, most of the companies offer 1 year of warranty. But there are brands that offer 3 years of warranty. So those were a couple of points under our electric kettle buying guide. Just keep the things on your mind while buying an electric kettle, and we are sure you will definitely get yourself the best one. Also for any questions, you can feel free to comment below.
You May Like to Read: