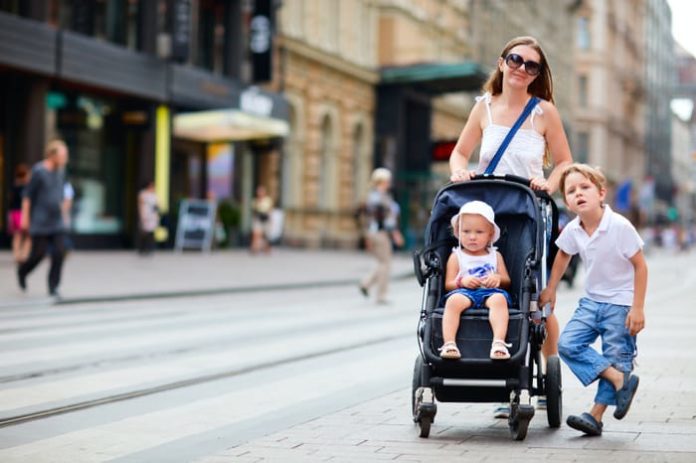 If you making a plan on buying a baby stroller for your home? A baby stroller is a perfect conveyor to keep your little baby safe with lots of enjoying. Most strollers are capable to carry until 20 kg weight. That means, with a baby stroller make a parents life easy while up to the preschool period. Several different types of brand available in the market. If you are confused to choose one around lots of options available in the market, My research list helps you to best baby strollers in India.
Our Top Picks
R for Rabbit Twinkle Twinkle Baby Stroller
The stroller can be reclined to 4 positions
EN 1888 Certified
Great for Indian uneven roads
6-inch sturdy front wheels
The primary job of a baby stroller should be to offer the utmost comfort when the child is moving. The R for Rabbit Twinkle Twinkle Baby Stroller is one such baby stroller which provides the utmost comfort for the parents as well as the baby.
This baby stroller from Twinkle Twinkle is EN 1888 Certified which ensures complete safety is taken care. It is easy to fold, you can simply pull your foot up and then unlock the stroller and fold it into a tiny unit.
The high-quality suspension ensures the smoothest ride, a perfect choice for Indian roads.
Chicco Simplicity Plus baby Stroller
Versatility
Affordability
Light weighted and sturdy
Stylish red color
The brand Chicco is one of the most trusted baby care product brands, it always has managed to deliver nothing but best. The plus baby stroller from Chicco is ideal for growing babies.
It is available in an attractive red colour which is easy to use and maintain. The Chicco Simplicity Plus baby Stroller is simple, comfortable and highly safe for even small babies. The stroller is easy to carry and can be used while shopping, travelling or even when you are out for a regular walk.
The sturdy aluminium frame ensures durability, the handles are adjustable and can be easily locked to ensure 100% safety while the baby is inside the stroller.
Luvlap Joy Baby Stroller
Follows 5 point safety harness
Reversible handles
Flexible food tray which can be detached
360-degree swivel front sturdy wheel
The brand has a great fan following in India market, all thanks to the high-quality product available at affordable rates. The Luvlap Joy Baby Stroller is sturdy and has a total weight of 8.2 kgs.
It is ideal for babies and toddlers as well. The overall dimension of the stroller is 80*47*38 cm. The minimum age of a baby should be 6 months to use Luvlap Joy Baby Stroller. The handlebar can be reversed, by this the baby can see parents while they are moving.
The canopy can be stretched and totally protects the child from direct sunlight, rain or even during high winds. The seat can be repositioned based on the comfortable sitting position of babies.
Luvlap Sunshine Baby Stroller
Front and back wheel brake
Looking window
Extra large shopping basket for storing baby essentials
Spacious looking window in canopy
It is another excellent baby stroller from Luvlap which is available at an affordable piece. The Luvlap Sunshine Baby Stroller has inbuild reversible handlebars so that baby can face their parents when they are on the move.
The seat can be reclined into 3 different positions, the baby can sit and lay comfortably while you are strolling. In fact, Luvlap Sunshine Baby Stroller is designed in such a way that baby can enjoy a peaceful sleep while you are out. Both the front and rear wheels come with brakes which ensures complete safety of the babies.
Little Pumpkin Baby Stroller
Easy to fold
Reversible mechanism
The seat can be reclined in 3 position
Comfortable ride to baby
If you are searching for a neat, durable and affordable baby stroller, Little Pumpkin Baby Stroller is the best choice. It is available is an attractive color which safely accommodates the baby.
The stroller is compact and best while you are travelling, you can easily carry with you everywhere. All the fronts wheel comes with additional suspension and offers a smooth ride.
The Little Pumpkin Baby Stroller can be easily folded, there is a push bar below the hand, which can be used to fold the pram in no time. The baby stroller comes with a reversible handle, you can move the stroller both the way.
Notty Ride Baby Pram
Additional mosquito net
Reversible handle
3 regular reclining seat
Portable hood
The brand Notty has managed to get the attention of the audience in a very short span of time. It is available in many colors, you can select an eye-catching color based on your child's preference.
The seat of Notty Ride Baby Pram can be reclined into 3 different positions. The baby can comfortably rest, sleep and sitting in this baby stroller. The baby stroller from Notty also comes with a reversible handle for easy operation.
The plastic footrest is adjustable and the front wheel comes with swivel functionality. The rear wheel has a powerful brake.
LuvLap Baby Stroller Pram
Both front and rear brake
affordable and stylish
Available in vibrant colors
Adjustable footrest.
The LuvLap Baby Stroller Pram works in both the way. The baby enjoys the utmost comfort in Luvlap products. The stroller comes with a reversible handlebar, it allows the child to face their parents.
It is easy to use and the baby can rest in 3 comfortable positions. The baby can rest in both sitting and sleeping position while the parent can comfortability stroll them.
Both front and rear wheel come with brakes, the footrest can be adjusted while the baby dozes off. There is additional canopy in the looking window so that you can keep a tab on baby while you are moving.
Chicco Lima Cortina CX Stroller
Easily suitcase fold technique
Comfortable for babies
Trusted baby product brand
Open the stroller with just a single hand.
The Chicco Lava Cortina CX Stroller is a sturdy choice if you are searching for a durable stroller. It can accommodate babies of all sizes if your baby is on the higher weight, Chicco Lava Cortina CX Stroller works well.
It can easily fit into a car. The folding is also easy, you can fold the Chicco Lava Cortina CX Stroller as a suitcase and can carry it easily.
This technique also ensures you can easy open and close the stroller with just one hand. The overall weight is 12.5 kg. The body is sturdy and the body is washable.
R for Rabbit The Designer Stroller/Pram
1 Pull and push the button while folding
Link brake for locking the stroller
Smart Suspension
Front wheel brake
The stroller cum pram from R for Rabbit is EN 1888 Certified that ensures baby is comfortable and safe while you are strolling. It is an ideal choice for babies and toddlers.
The wheels are designed in such a way that your baby is safe and enjoys the ride while you are strolling. The suspension is best and is designed especially for the uneven roads. The front wheel brake is robust and ensures 100% safety while you ride with your baby.
The reversible handle offers versatility and comfort. You can keep a check on your baby while you are riding the stroll. Moreover, R for Rabbit The Designer Stroller/Pram is easy comes with 1 pull button to fold the pram.
LuvLap Galaxy Baby Stroller and Pram
Both front and back wheel brakes
3 adjustable seating position
Trusted brand
The reversible handle can use it in both ways.
If you are looking for the best baby product manufacture, LuvLap is surely a reliable name. The Galaxy Stroller Pram from Luvlap is extremely popular. It has passed the standard of safety test.
The pram can be adjusted into 3 recline positions so that the baby does not sit in the same position for a long time.
The LuvLap Galaxy Stroller Pram comes with both front and back wheel brake so that you have full control of the stroller movement. The rear back wheel allows you to go handsfree and take some rest.
Personnel Recommendation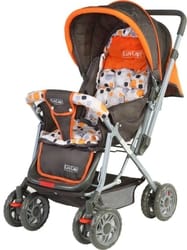 All above are good stroller but we suggest you LuvLap Sunshine Baby Stroller. Because the LuvLap Sunshine Baby Stroller or Pram is a rich model to cover user-friendly features. Its stylish design and sturdy attract to all and your newborn baby or toddler comfort with them.
Best baby pram brands
Here we explain the best brands of the baby pram in India.
R-rabbit
LuvLap
Notty-Ride
Little-Pumpkin
Mostly Ask Question?
Which stroller brand is best?
A stroller is a part of our life. When choosing the best brand in a stroller thousand of parents mostly choose LuaLap brand.
Which pram stroller is best?
If you can see a stroller for a newborn baby or toddler then LuvLap Sunshine Baby Stroller is one of the best modern strollers in India.
Are strollers really needed for a baby?
It is absolutely necessary. The stroller is needed to all time like to take the market, walking, shopping malls, park or everywhere to go outside around street celebrations.
The essential factor for Baby Stroller(Pram) Buying Guide
Having a baby stroller is one of that support which will offer your baby safety and comfort as well as you will love to carry baby easily. It is also necessary for the stylish way of life. It is one of those important buys you will need to make for your newborn baby. But buying a stroller is just like buying a car – there are so many options and accessories that it can get confusing. So you have all the vital guidelines you need to keep your baby comfy, happy, and safe.
How can you find the best baby stroller?
The best strollers will provide you with the best service. For finding the good pram, you have to look out some vital factors. Some strollers are exclusive for jogging purposes, and some are for hilly areas. So you have to decide first which one is best for your use. Then you have to consider, comfort, use, weight, travel system and space. As it is an alternative to baby transporting, it must be comfortable to advance for parents.
Baby Stroller Types
The Travel System
These systems are generally bigger and heavier than other strollers, but you can look some lighter-weight ones and sometimes you can reduce costs when you buy the combination of a car seat and baby stroller and all-inclusive design is usually good value for money. Quite elegant, the English pram style baby stroller is usually very expensive with top quality features.
Car Chair Carriers
These have a basic design to support your baby's car seat, and usually the car seat which you decide on. They're quite expensive but simple to use and convenient, you won't awaken the child up when they get to sleep in the car. But most only work with baby car chairs, so your baby will grow out of this stroller faster than you think.
Lightweight Baby Stroller
Like their name suggests, lightweight strollers are designed with portability and travelling in mind. The lightweight umbrella stroller is a no-frills simple stroller that folds easily and takes up very little space folded. They are less expensive than other strollers and often used as a backup baby stroller for travelling.
Double Strollers
If you're having twin babies, and you only want one baby stroller, this is your only choice. You can either get a combination baby stroller, which has one chair right in the front side of another one or the side-by-side baby stroller. The first can absence of leg space for the rear carer, but the side-by-side is more difficult to push through the door and anywhere around the crowd.
What to look for when shopping for a baby stroller?
The Ease of Use
You should look for a pram that you can slide into your car with ease. Often, you have to buy strollers that can be folded without any problem. After folding them, you can put them in the back of your car. As a matter of fact, convenience is the number one factor that you should look when buying in a baby stroller.
Consider a Double Stroller
Most strollers are inexpensive. Some are strong and spacious enough to accommodate 5-year-olds as well. If you have more kids, then you look for a double stroller. The additional seat may keep your shopping bags or backpacks.
Always look for a Pram That Can be Folded
Some baby prams feature a one-hand flip. This feature is excellent. It allows you to fold and unfold the product in the blink of an eye. So, you can put in or take out the pram out of your car without having a problem.
Reversible seat
It gives you the ability to change the route your child is facing. The very useful feature, because parents often prefer when their baby is facing them, but a curious baby prefers to ride facing the World and watch surroundings.
Stroller Frame
If the frame is heavy, the whole stroller is heavy, you should look for quite a light frame. Of course, it has to be strong and durable at the same time.
Wheels
The large and air-filled ones are the best for long walking and rough floor, smaller wheels might be better for city use and running errands. Rotating front wheels give better move, locked wheels make stroller more stable.
Brakes
Brakes should lock both wheels at the same time. When the wheels are blocked, the stroller should be motionless.
Canopy
The canopy should be flexible that fold easily and quietly and have great ventilation for hot days. It should be big enough to protect your kid from sun and wind and give him some room to grow.
Storage basket below the seat
It will be very handy not only for moms! A large basket under the seat is great for a diaper bag, purse and cup holders for your drink and a sippy cup. Therefore the spacious basket is a must-have.
Removable cover
It's wonderful to have an option of removing the chair cushioning and putting it to the washing machine. You will want a cover that can be quickly unfastened and clean up and a fabric that is easy to clean without shrinking or fading.
Adjustable handlebar
You also look at the features that make pushing the stroller more comfortable for parents of different height.
Overall Budget
baby strollers are available for any budget. For example, umbrella strollers are for you if you can afford to spend a good deal of money. So, you have to make a clear idea of how much you can spend on the product before you set out to buy one.
Conclusion
Although you may get confused by the tons of baby strollers in a store, you can find the best one with a bit of research. Once you have considered all your factor and determined the best strollers type based on your budget, you can find the best one in your price range. Just make sure you don't make the price your only deciding factor.
You May Like to Read:
Top 5 Best Baby Walker in India 2023
Top 5 Best Baby Carrier in India 2023