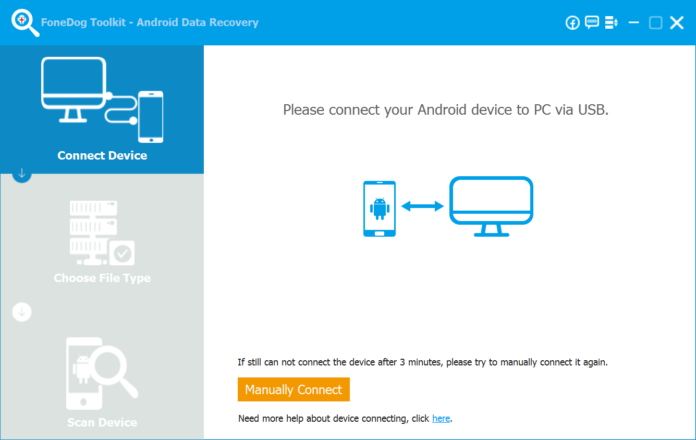 As an Android device user, one may find that there is no backup service on an Android device, therefore, most of them may overlook the importance of backup the data of the devices. Once one deleted or lost his important data accidentally, he may find nowhere to restore the data. Thus, thinking highly of backup and restore android data is beneficial for android users a lot.
Because of this way, you don't need to concerned about original data that will be deleted or lost when you optimize, reset or reboot your device. But how can the users back up and restore Android data to another device? Don't worry. This article focuses on giving you an excellent but easy guide on backup and restores the deleted or lost data, that is, using FoneDog Android Data Backup and Restore toolkit.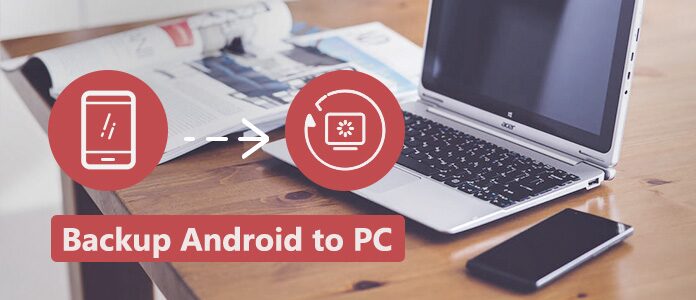 1. Why We Lost Our Data on Android Devices?
There is no denying that losing data annoys us a lot, so it's better to know why we missed android data now and there. Here common reasons for you losing your data on android will be listed.
Reason 1: Accidentally broke your phones. As we use our mobile phone, we can't avoid an occasion where we dropped our beloved phones accidentally. Then the phones broke and can't be used anymore. Of course, we can extract important data of the broken phone.
Reason 2: Formatted problem. After a long time use, your android phone will run slower, so you may format your phone to get a brand new one. Unfortunately, sometimes you may lose your important data during the process of formatting.
Reason 3: Unidentified error. Although we now lived android devices develop quickly, unidentified errors still happen randomly, which may lead to data loss.
There are still a large number of reasons for losing data on android devices. Thus, it's highly recommended android users to backup their important data from time to time.
2. What is FoneDog Android Data Backup and Restore Toolkit?
FoneDog Android Data Backup and Restore toolkit is very simple for you to use because it doesn't require any technical knowledge. At the same time, it won't disclose any personal information but just reads the data. If you are still worried about it, you can also encrypt the backups. What's more, it can not only supports different kinds of Android device, such as Samsung, HTC, Moto, LG, Sony, and Huawei, but also backup a number of data types, for example, Contacts, Call logs, Messages, photos, videos, audios, and documents.
There is no doubt that it's a perfect android data backup and restore toolkit for all of the androids users. But before we have a close look at FoneDog Android Data Backup and Restore toolkit, we are better to know why we will lose the data on android.
3. How to Use FoneDog Data Backup and Restore Toolkit to Backup Data?
Here a simple step-by-step guide will be shown to you as follows.
Step 1: Download the FoneDog program here and run the toolkit on your computer, and then link your Android device. firstly, you are able to go to FoneDog official websites to download FoneDog Android Data Backup and Restore toolkit. After, using your PC to launch the toolkit for android. Confirm that just this backup toolkit is running at this time. Then, link your android device, for example, a phone.
Step 2: Choose the backup selection. When the toolkit starts to scan your device, you can choose "Device Data Backup", then the toolkit will detect all the data for you. You can also back up the data you want on your computer.
Step 3: Backup data type you want. Once you choose the data type you want, tap the "Start" button. The scanning process would cost you a few minutes up to the file size. Make sure the android device is connected to your computer, and you can make use of it or delete any file during the scanning process.
Step 4: Finish backup. Click the "OK" button when the backup is finished. You can preview all the backup file, or just recover what you backup just now to your device, such as phone.
4. How to Restore Backup Files with FoneDog Data Backup and Restore Toolkit?
After you back up your files, let me show you how to restore them to your android device.
Step 1: Choose backup data to recover. Once you tap the "Device Data Restore" button, the software will automatically show you the latest backup files. Or you can select to backup other data on the program.
Step 2: Select files to recover to the android device. You are asked to select the data type you want to recover to your android device. The data types are shown on the left side of the display screen. Once you choose the data you want, then you can press the "Restore" button to launch the program. After you make sure the recovering process, then tap the "OK". The scanning process will cost you a few minutes. Make sure your android device is connected. When it's finished, the toolkit will inform you.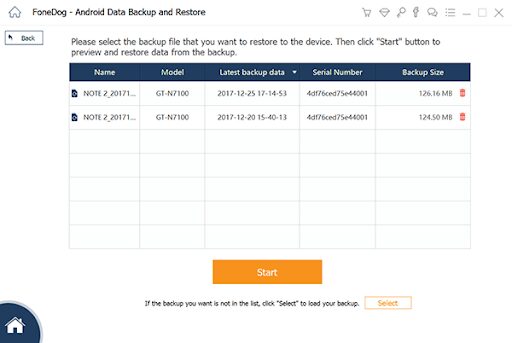 5. In Conclusion
As we use the android device every day, in case of losing our important data, we must realize the significance of data backup in life, study, and work. Although the android device doesn't offer a data backup function, we are able to ask some excellent third-party tools to help us to complete this task. FoneDog Android Data Backup and Restore toolkit is the best choice for android users, for it's not only easy to be used but also safe and efficient.