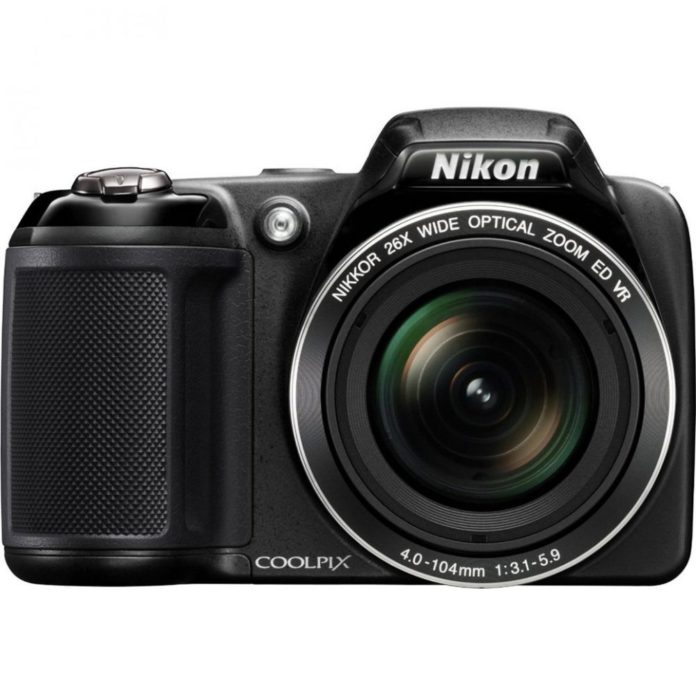 Announced back in 2013, Nikon Coolpix L320 was designed as a successor to widely popular L310 model, one of Nikon's best-sellers. It has a 16.1-megapixel sensor and 26x optical zoom, with a 35mm equiv: 22.5 – 585mm lens. Despite its compact size, it has a powerful zoom, allowing from some quality distance shots.
When released, L320 was priced at £175.00 ($218). One of the best features the new camera had was a continuous shooting mode, able to record images at 1.2 frames per second. It also had an auto mode, which was able to detect the scene and adjust settings automatically, making it very easy to use. If you don't want auto mode, you can choose from 18 preset scene modes or a smart portrait mode, with features like self-timer, blink proof alert, skin softening and red-eye fix.
Nikon Coolpix L320 has a massive rubber grip and it both looks and feels like a DSLR, albeit a small one. With a big rubber pad on the back and a rocker for adjusting zoom, it is very handy to use. It comes with a pop-up flash and big on-off button on top of the camera.
There is a 3-inch display on the back of the camera for shot preview. It is also used to display the menu, which is easy to navigate via d-pad next to it. The resolution of the screen is quite low and at 230p it may be hard to distinguish details on the shot.
Alkaline batteries are rated for 310 shots on one charge, which should be enough for a full day of shooting, but that info should be taken with a grain of salt since it will largely depend of the quality of the batteries you use. With lithium batteries, you should get more than 800 shots. The camera uses four batteries.
The pictures taken with Nikon Coolpix L320 turn out well exposed and with good color reproduction. The camera manages skin tones well and easily eliminates red eyes when using flash. The center of the picture has great detail, however, they tend to get a little fuzzy at the corners and near the edges. With a minimum focusing distance of 1cm, you should be able to get some decent macro pictures as well.
With ISO 80, 100 and 200, the pictures came out almost free of the nose, but higher settings aren't really recommended. At ISO 400, images turn out fairly soft, while at ISO 800 you start losing on the details. At ISO 1600, lots of details are lost and even colors come out smudged at places.
Nikon Coolpix L320 has several preset filters for digital processing, making it easy to create some unique pictures.