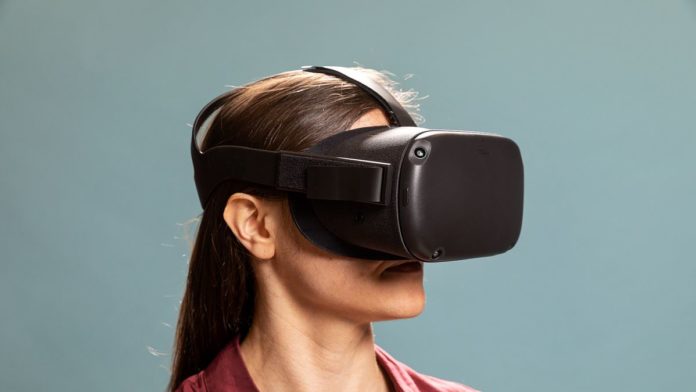 Nowadays VR is a trending product in India. That time is gone to watching movies like the usual folks. Today time feels virtual, all thanks to virtual reality technology. VR product like VR headset and VR glasses available in the market. Here give information about the best VR headset in India. Using these Smart VR headset or glasses while watching movie or games to feels close proximity or living reality experience when connecting with it.
Our Top Picks
What is Virtual Reality?
Virtual Reality (VR) is an interactive computer generated technology to introduce a real atmosphere by using vr headset or glasses.
VR headsets block out the outdoor world and inside create a new imaginary world for the user. You can very much enjoy watching movies, play games and a lot more coming soon in 3 D. If you find a superior quality best Virtual reality (VR) headset in India. See them below:
Best Virtual Reality (VR) Headsets to Buy Online in India
1. Samsung Gear VR
Samsung always comes with new innovative ideas. This is one of the first best virtual reality headsets on the market. If you want to real entertainment in-play game and watch the video or movies then this VR headset is perfect for you. In the front side give a space to put your cell phone.
Samsung Gear VR works with Android phones only. VR smart glasses allows viewing at 360°. Everybody definitely loves this brand.
Built-in immersive surround-sound effect and volume setting options attached with a headset. It's safe and comfortable to use.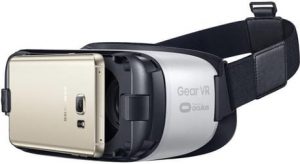 Key Features:
Highly portable.
Light-weighted for play comfortably.
Works with Samsung Galaxy Note5, Galaxy S6 edge+, Galaxy S6, Galaxy S6 edge.
6 months repair warranty covered on this VR headset.
PRODUCT INFORMATION:
Brand

Samsung

Model

SM-R322

Colour

white

Warranty

6 Month

Price

Rs.1,745/-
2. Procus PRO 100-120 Degree VR Headset
If you are a true 3D movie or game lover, then you can go with Procus Pro VR Headset. The Procus Pro VR Headset integrated headphones with decent bass and 3D vision. The high-quality PMMA lenses provide a large field of vision and which helps to reduce eye fatigue even watching longer periods of time.
This headset turning knobs which can help in adjust headphone according to your requirements and its soft cushion pad comfortably wear a longer period of time. Inbuilt action buttons, you can answer and control the volume without removing VR.
You can enjoy a watch 3D movies, 360-degree photos and videos with the help of 100-200 FOV degrees lenses.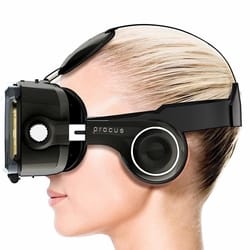 Key Features:
Comfortable & Lightweight.
Distance and volume controller.
Adjustable mobile holder panel.
Great compatibility and portable nature.
Feel HD viewing experience.
PRODUCT INFORMATION:
Brand

Procus

Colour

Black

Glasses

3 D

Warranty

3 Month

Price

Rs.1,899/-
3. AuraVR Pro Fully Adjustable VR Glasses Headset
This is the best selling VR on the list. Aura VR headset is inspired by Google Cardboard, Oculus Rift and Samsung Gear VR. Its high-quality optical glasses supports various types of smartphones if its screen size between 3.5-inch to 6-inch with the minimum operating system Android 4.1, IOS-5 and above.
Additionally, there is an option for you to adjust the interpupillary distance between the lens and the screen for 360◦ wide angles panoramic views live.
This VR headset has furnished with nano-coated optical resin 42 mm lenses and 100-110 FOV. Still, do not prefer a wireless Bluetooth technology in the VR.
The Pro VR Gaming headset started by Ankush Aggarwal and Deepak Kumar.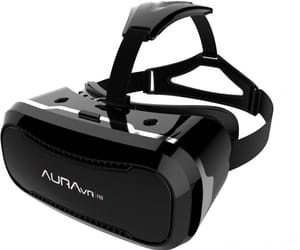 Key Features:
Adjustable focal length.
Nano coated lenses.
Extra durable and light in weight.
Oculus Touch motion controllers.
Supports majority of smartphone brands.
A headset is compatible with Daydream based content.
PRODUCT INFORMATION:
Brand

AuraVR

Colour

Black

Lens Diagonal Size

42 mm

Operating system

Android, iOS

Weight

376 g

Price

Rs.1,899/-
4. Irusu Monster VR headset
Irusu Monster VR headset built with touch button virtual reality headset that supports all mobiles. Its curved ergonomic design, compatibility options and ideal heat dissipating design make a perfect choice for anyone. It also comes with a free Bluetooth remote and touch button for maximum compatibility.
One of the unique features is that 42 mm HD VR lenses provide crisp and sharp images with blocking electromagnetic radiation able to protect the side effects on the eyes. Also, the lenses are adjustable within a range up to 600 degrees.
It looks great with red and black color combinations.
The compatible to leading mobile brands like Apple iPhone 6 and plus, Samsung, Xiaomi, Lenovo, Oneplus, Moto, LG, Nexus, Google Pixel, LeEco le2 and other mobiles that have a gyroscope.
Mostly, protect your face your skin doesn't feel irritated or bruised while wearing it.
Key Features:
Convenient to wear it.
Fully adjustable lenses.
Removable front tray.
Super eye and face from the protector.
Experience immersive movies and games.
PRODUCT INFORMATION:
Brand

Irusu

Lens Diameter

42 MM

Colour

Black

Wireless

Yes

Warranty

3 months

Price

Rs.1,614/-
5. Circle VR Headset
The Circle VR Headset has an inexpensive headset on our list. The unique design headphones seeming comfortable while wearing. It supports all Android smartphones of 4 – 6.5″ sizes.
This is a high-quality gadget buy for full entertainment.
The packed with amazing features like front bezel, super face foam protector, headband hook removable front tray, breathable point and adjustable lenses.
It uses an HD Aspheric Biconvex Optical Resin adjustable lens and its range is 55-67 mm. Its 1050 resolution brings you super 3D picture effect and astonishing feeling at home.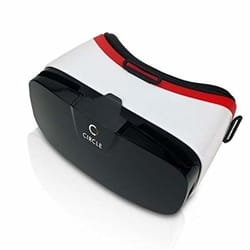 Key Features:
1050″ screen from the distance of 3m.
Has a lens diameter is 42 mm.
Virtual reality 3 D glasses.
Its compatible screen size between 4-6.5 inches.
Its object distance adjusts range is 45-50 mm.
Lightweight, Ergonomic design and augmented Reality VR.
PRODUCT INFORMATION:
Brand

Circle

Colour

White

Resolution

1050

Field of View

105 Degree

Warranty

1 Year

Price

Rs.849/-
Personal Recommendation
Since we analysis a top five best VR headset in India. All five product is very good but someone is difficult to choose from five out of one. Then we suggest a personal recommendation.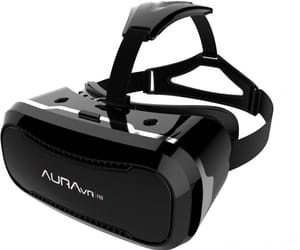 AuraVR Pro Fully Adjustable VR Glasses Headset is a trending VR headset on the list. It's curved and ergonomic design everybody to like. Buy this VR headset for watch 3 D movie and play a game with getting a much calmer experience at home.
Best Virtual Reality Headsets Brands
# Samsung
# Procus
# AuraVR
# Irusu
# Circle
Frequently Asked Questions:
Who created VR?
Ivan Sutherland and his student Bob Sproull first time created a VR or AR display in 1968. It's only connected on smartphones, not on camera.
How does virtual reality work?
Its block the real atmosphere and create a surroundings new imagination with the help of technology.
Can we use iPhone for VR?
Although most of VR connect iPhone some devices do not connect with iPhone so, if you buy especially for iPhone then you can check before buying it.
Best Virtual Reality (VR) Headset In India- Buying Guides
Virtual reality (VR) generally refers to computer technologies that use virtual reality headsets to create realistic images, sounds and other sensations that replicate a real environment or create an imaginary setting. With Virtual Reality (VR), technology now allows people to experience a close to life environment in an imaginary setting. This device is a fascinating way of user-projection in a diverse range of environments through the power of technology. With the use of a headset and motion tracking receptors, you can explore the virtual space.
If you've been thinking about getting a virtual reality headset but aren't exactly sure where to start or what you might need, this article will attempt to help you out by finding a few specific VR headset models based on the different types available. VR headset comes in 3 basic types- Light Mobile, Premium Mobile, and Tethered Premium. Optimistically, you'll have a great understanding of what to expect from each type of headset and which one might be right for you. You might get that a particular headset model jumps out at you like the one you will want to possess.
Light Mobile Virtual Reality Headsets
If all you're looking to do is enjoy virtual reality videos without a lot of extra bells and whistles, you can easily do so with a basic VR headset from the Mobile category. You don't actually need built-in headphones, top notch lenses, or other high-end features and materials to get the most out of watching VR and 360-degree video clips. Light Mobile category of VR headsets included a variety of different models.
Premium Mobile Virtual Reality Headsets
With materials are strong and feature more plentiful, Premium Mobile Virtual Reality Headsets reside in the middle ground. This VR headset allows you to completely immerse yourself in VR and 360-degree videos in up to 11K quality with an impressive viewing range of 101 degrees. It's suitable for most latest model Android and iOS-based smartphones come with its own free app (NOON VR App), which features a large video library of content for you to engage with.
Tethered Premium VR Headsets
If you want to get into exclusive truth in a really big way, with all of the additional things (such as activity controllers) and high-end elements and components, and materials, the Tethered Premium VR category is the one you're going to explore. This is known as Mixed Reality (MR) and is a hybrid blend of Augmented Reality and Virtual Reality.
In Tethered Premium VR Headsets you will find, among other models, you'll be able to enjoy over 20,000 different Windows apps as well as 360-degree videos through this tethered headset that plugs directly into your computer. This is the kind of technology and functionality that you can only expect to find at the premium headset level.
VR headsets are best used for a fun and new experience. These devices selected based on brand value, comfort, ease of use, customer satisfaction, and overall design. If you want to begin the process to choose your own best VR headset in India. Check out the complete guides of Virtual Reality Headsets selections-
Quality of lenses
Quality of lens should be your main priority If the quality isn't good, then you are so bored with the VR headset and cannot enjoy the visuals. Hence it is the only thing responsible for clear visibility of image, videos or something like.
Field of View
Field of view can be expressed as viewing an image or video at 360◦ rotational angles it can be defined as the extent of the observable world that can be seen at any moment of time. There are some latest design or models that come in 360◦ viewing options but at an expensive price. Choose the best that satisfies all your needs.
User-Friendly
You should choose the VR headset that brings more comfort to you because, when you play a video or music using the VR headset, you must be in a very comfortable point to enjoy the wonderful visuals. Otherwise, you may feel depressed, and irritative sometimes. It can be with limited features or uses soft cushions to ease the stress on ears.
Controllers
You can observe the features of VR headset using the controllers. The VR-headset can be connected to remote or smartphone via Bluetooth protocol. You cannot interface smartphone and enjoy the HD visuals without this wonderful feature.
In case, you face trouble in controlling the device manually, with just a single touch you can work everything that you would like to and enjoy the virtual reality by using these controllers.
Casual or Hard-Core
If you are the one who loves to use it regularly to listen to music or watching HD videos, then go with the casual VR-headsets. And if you are a game lover then hit with the hard-core VR headsets to enjoy the gaming visuals.
Performance
You cannot assess the efficiency of any VR headset only by looking at it. Unless you use it, you don't know how it actually performs. Analyze the efficiency of the item by looking at its price, performance, awesome functions and intelligent options. Smaller the functions, lessen the performance of VR headset.
But, when you purchase online you should check out for the reviews and ratings of each product in detail
Material Quality
Material quality decides the performance and long-lasting characteristics of the VR headset. Assume, the VR earphones are made with poor plastic, the chances are very high for damage, which in turn results in inadequate performance. So it is better to go with the eco-friendly materials that increase the performance and also provides extreme comfort.
Price
The last important factor you should look into is the price. If you know that how much amount you can spend for virtual reality headset, then you can simply select the one that matches with your basic requirements like playing games, watching videos and listen to music.
Conclusion:
In the market, you can see all the model, designs at a different price but you should check the price along with the features and performance it offers. Else, your total investment will be worthless.
You May Like to Read:
5 Best Headphones under 5000 in India